Wednesday, May 31st, 2006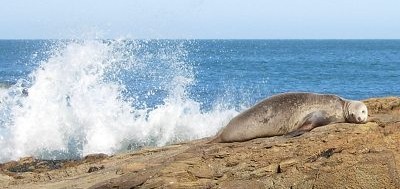 Here's a little jazz by the sea, to entertain this tourist.
Paradise Cove doesn't get too many of these visitors on shore; occasionally I spot a lone sea lion's head bobbing through the nearby surf, but this is the first time that I've seen one hauled out on this beach to catch some rays on a rock. This cutie is about six feet long, and weighs hundreds of pounds. Hey, watch out for that that wave!
Took this photo on Monday, late afternoon. Just the day before, we were leisurely kayaking around the Santa Barbara harbor for kicks, saying hi to neighbors and keeping up a running commentary on every vessel of interest we paddled by. A sudden whoosh in the water at the bow was immediately followed by the large, whiskered head of a harbor seal who came up for air inches from my toes. We said hello to each other and off he went to explore some of the same sailboats I had been checking out. But he had a more interesting view, diving under the hulls and amusing himself with the variations of life that insistently cling to rudders and keels despite the wishes of their owners. Left uncleaned, every idle boat's underside quickly becomes a makeshift reef for barnacles, limpets, sea stars and forests of algae. The harbor seals seem to enjoy this peculiar aquarium as much as I do.