May 17, 2006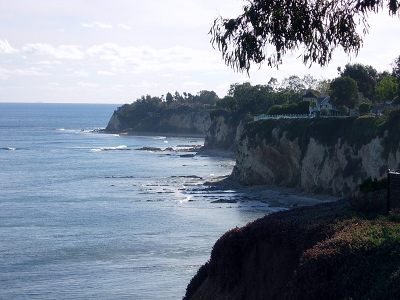 Click on the blue music icon above to hear some of the Adagio movement from my "Trio for Clarinet, Violin and Piano".
On the phone with a dear friend today, we chatted about our various travels and she asked, "if you weren't in Paradise Cove, where would you choose to live?". Latitudes to the north and to the south sprang to my lips, some within the U.S. and just as many outside these borders. I mentioned something about preferring to be warm. "Florida!" she proclaimed. I shot the idea down without a moment of hesitation, out of hand. Nothing in particular against Floridians, although I sure would keep a careful eye on the current high level employees in the State government. No, my prejudice against Florida has solely to do with its… geology.
Flat.
Flat.
Really, really flat.
Did I mention how flat it is?
The thing I love the most about the craggy beaches of Malibu are these rocky, crumbling bluffs. One moment you're on the sand, and the next you've got a sweeping vista across the waves to the Channel Islands. Of course, this works in reverse, too: more than a few folks with those nice views have unceremoniously ended up with sand and salt water in some unexpected places. That large house you see (which happens to belong to a Really Famous Couple) may not have quite as much yard for cocktail parties a few years from now.
Maybe because I was raised 160 feet in the air in a Manhattan skyscraper, I like height. Or maybe I just like getting an overview of things. Whichever, it's an addiction, and I can't imagine being too far from a place where I can see the big picture.5 viagra generic cialisxanax side affectxanax with adderalxanax aboutsildenafil 5 viagraviagra 0 herbalultram 100 tramadol pricesxanax alcohol Map