Monday, October 29th, 2012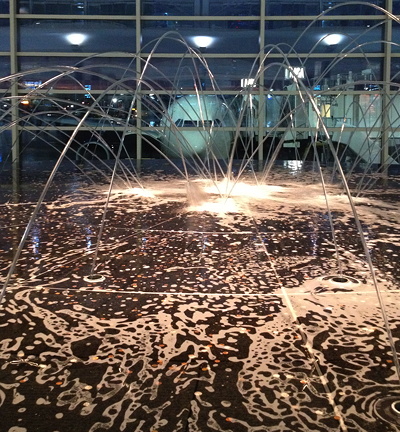 …about the music
Mood. Altering.
According to the above photo from Detroit's airport, hurricane-grounded planes (aka, hurriplanes) were inundated with high, wind-driven water from the eastern seaboard all the way to Michigan. I was fortunate to be able to escape New England a day earlier than planned, but rather than arrive as hoped in Seattle, I made it only to this lovely fountain as that bitch Sandy followed on our tailpipe, shaking her fist and walloping my pals on the East coast.
This is normally a blog about the wonders of nature. When a storm hits I'm the first to share the eye-wetness report from the front lines, as I did from the north edge of San Juan Island in 2010 and from the same isle's southern edge almost one year ago, on a memorable, nervous-giggle-infused Thanksgiving Day, 2011. Yes, you will find action-adventure movie entertainment of the highest order within these links. Make some popcorn. Take your Dramamine.
Unlike the cold, drenched and battered reporters we see on CNN and the Weather or Not Channel, I much prefer to do my investigative journalism from the cozy interior of a structure that's about to wash away, rather than from the exterior of one. Then again, those masochistic reporters get paid a lot more than I do. Meaning, they're paid. To stand out there and be miserable. I have yet to figure out a way to get someone to pay me to stand in my house and ponder when the roof will finally give way under the 70+ MPH winds seen in my home-brew near-disaster pix. Then again, no one ever put a gun to my head to make me live in such an extremely exposed and über geo-meteoro-logically dramatic locale in the first place.
Artists are a little bit crazy. Ok, yes, I've just admitted it. After watching my videos above, you may agree.
Last night I had an encounter with something wonderful that was not of mother nature, but of human nature. It was man- (or, woman-, I dunno) made. It made me feel good. So of course, I want to share it with you. Since almost everything I post here is a reflection of all the great things in my daily life that would make anyone feel good. Okay, 'cept for those amazing shots of the harbor seal eating a Giant Pacific Octopus. No one in that scenario really felt good at the moment, although I'd say the seal was in a better mood overall.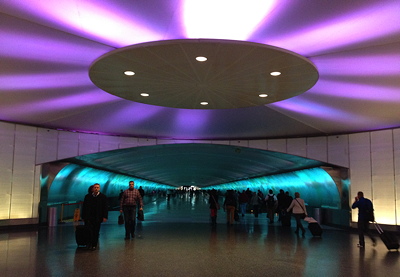 I strongly dislike the majority of public art I've seen in U.S. cities. My pissy gripes on the subject are worthy of an entirely separate posting, and I promise I'll spare you my whining. So it was a particularly unexpected joy the first time I found myself in the Detroit Metro Airport, which treats travelers to at least two mood-uplifting, grin-inducing (grinducing) socio-artistic interactions on a physical plane. Before they get onto one. Or, after they've left one (when we deplane, I guess that means we become the dearly departed? Or maybe that's just after the cabin doors have closed and the wheels are racing down the runway). Ah, the many planes of existence.
I have since returned a few more times to DTW, and though I can't figure out why the initials aren't DMA, I don't care as long as I get to play with the fountain and wander through the light tunnel.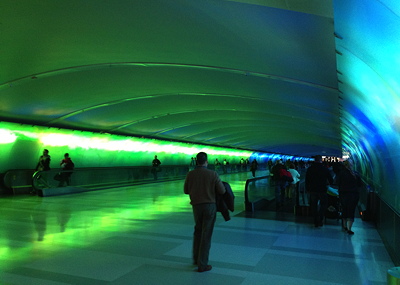 I hate non-stop flights, but if I have to connect I love doing it in Detroit. That's where, no matter how weary, hungry, cranky, or achy I may be (the rest of my entourage of seven dwarfs are: woozy, punchy, and needadrinky), I suddenly turn into a little kid, totally charmed and endlessly bemused by DTW's grinducing and ultra-groovy tunnel of shifting color love. The experience is very much like being inside of a lava lamp. If that's your kinda thing. I admit it's my idea of a good time, but hey, so is standing in front of 30-foot windows during a violent storm, steadying a tiny video camera. As I said, artists are a little bit crazy.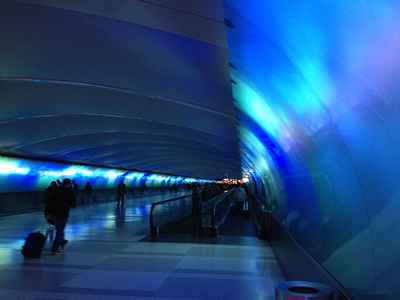 Dragging rollaboards attached like stubborn polyps, flyers must pass through this enclosed moving walkway tube in order to be digested thoroughly and deposited into the main terminal.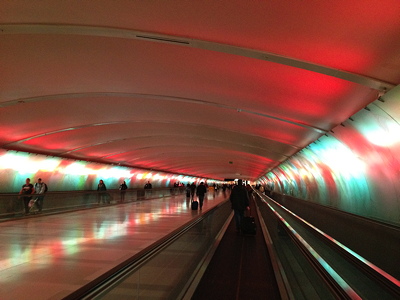 Usually when I find myself here, I'm high-tailing it over to another, very distant gate, and have no time to luxuriate in fine art. But the hurricane turned my plans into a Motor City sleepover, which meant I had all the time I desired to stand and admire, after finding a safe spot to avoid obstructing the path of hurrying passengers and risk being trampled in the name of cultural and artistic immersion.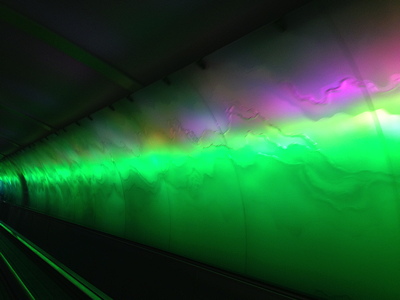 Oh, how I love this… all my favorite gem colors in one place. I think the etchings on the [plexi]glass are of sea creatures…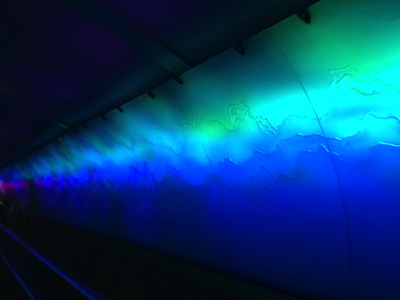 The installation includes a shifting soundtrack, too, some of which I love until it turns into a b-movie cue with cheesy synth sounds pretending to be a string section. I mean, really, people: there's no need for Bad Synth in 2012 when we have endless access to Good Synth. But regardless, the overall effect is wonderful. If this doesn't alter one's whacked travel consciousness and de-stress them into a smiling heap of boarding pass bliss, I dunno what will.
The subway, train and car tunnels of my home town of Manhattan and its environs are flooded tonight. It's a complete mess that has disrupted the lives of millions, and will take a long time to repair. Meanwhile, each day and night at the Detroit Metro Airport, someone is experiencing the visceral offerings of flooding water and a long tunnel in a very different, and exceptionally beautiful way.