Thursday, June 29th, 2006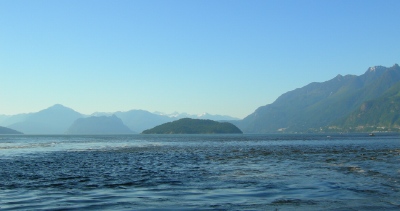 A clip from "Water Crossing," to score this water crossing.
Wanna see this photo move??
Sure you do.
The trip up to the gulf islands off Vancouver was nothing short of magical, on all counts. Unseasonably hot temperatures (can you say, global climate change?) added to the luxury of this lush, sensual environment. Each day, we were interchangeably surrounded by dense forests of cedars, pines and maples, and sprawling water guided by random humps of green floating land masses. Nearly every vista beyond led the eye to stunning snow-capped peaks of the Cascades, Olympics or Coast Mountains (above, as seen from Horseshoe Bay near Bowen Island). This was a multi-layered visual feast that kept my mind spinning at the possibilities of endless coves and trails to explore.
Our favorite spot was Saltspring Island, with its combination of artisans, organic farmers, and a general population congealed in an actual, vibrant sense of community– something I rarely feel in Los Angeles. Standing by a roadside pasture in front of Fulford Hall during a folk concert intermission, I watched as locals smiled and chatted with their neighbors. It was as though I had landed in a Rodgers and Hammerstein musical and at any moment, everyone was going to break out into a happy song and dance.
If there's a more wonderful way to live, I can't think of it at the moment.
Ahhhhh.