June 10, 2006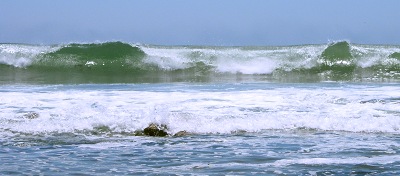 A little new wave music for this little wave: "Dream Vista."
I woke up oddly early this morning, to a sky filled with a good dose of what we call June Gloom: white-grey-white everywhere, typical for the season. The horizon offers no delineation between the sea and the air; all are one endless piece of paleness. Staring outside creates a kind of vertigo.
The photo above was not taken today.
Lest I be stuck listening to the dull thud of my own groggy thoughts, I flipped on the TV. It's programmed to start at a cable channel called Fuel that features all the extreme board sports– skate/snow/wake/surf– plus motocross. There's nothing like watching people risk life and limb in pursuit of death tempting thrills while I sit in my pajamas with a cat on my lap. I'm such a wuss.
Fuel was airing the 2006 Billabong XXL Big Wave Awards, crowning the great achievers-slash-nut cases who surf humongous walls of water… and live to tell the tale (too many don't). The clips were riveting. This year's winner conquered a 68-foot wave in Todos Santos, Mexico. Yes, 68 feet. Like gliding down the side of a seven story building that's about to collapse on top of you. Check out the footage on the website.
The photo above is from a walk I took last Sunday. No June Gloom, no 68 feet, not even 6 feet (the latter is common here). Just a nice little 3-foot curl on the verge of hitting the shore. But who knows what water pushed it here? Maybe it was the final repercussion of some beautiful, threatening, alluring, frightening, awesomely powerful 68 foot wave.
And wouldn't it be cool if some awesomely powerful surfer had conquered it.peeing movies freemovies free teen presample movies free sapphicsex free home moviesfree movie fetish smoking clipsfree torture moviesmovies free naked xxx and picssex length full moviemovies porno fullmovies cartoon hardcore sexcredit site accept for card webamazon credit account1st credit financial unionaccurate creditaccess creditcredit americu union new hartfordlay offs americreditaccredited fake verifiable degrees Map