Tuesday, November 25th, 2008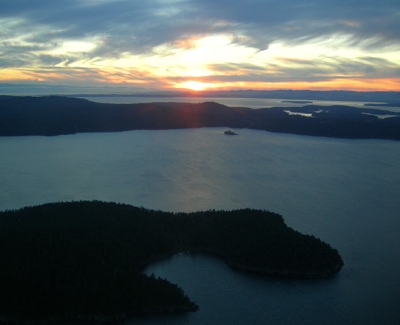 Homecoming.
I aim to please. And anytime I aim my camera out the window of a little puddle jumper up here, it pleases me greatly. I hope it does you, too. I'm delivering on the reader requests placed in the last posting's comment section, with a small offering of some of the joy I feel up in the air. Along with being accompanied by one of my many music clips, you'll just have to imagine the drone of the engines and propellers.
First: Mt. Baker, my gift for Doug. Normally a bright white, this time the western face of the glacial snow reflects the setting sun. It was only 3:45 p.m. when I snapped this, and yet twilight was fast approaching. We still have one more month of ever-darkening and mysterious afternoon skies.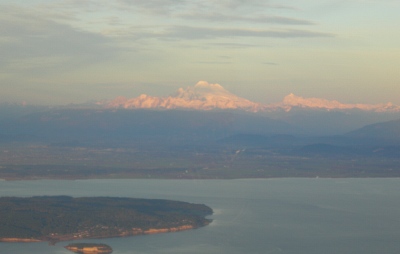 Well Pat, welcome to my corner of the blogosphere, and on behalf of Kenmore Air I apologize that my flight pattern did not take me over lovely little Frost Island. As a nifty consolation prize however, I hereby give you James Island, the fascinating trio of small humps off the shore of Decatur Island, just to the east of Lopez Island. With it's rather phallic layout I actually find it more interesting than Frost. Extra bonus points: Mt. Baker in the distance, upper right.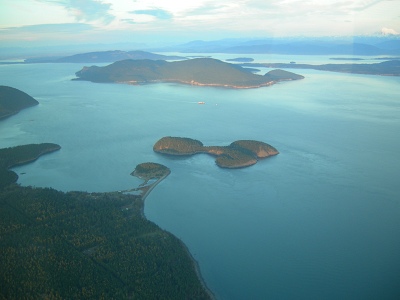 I searched in vain for the top of Glenn's head, but he must have known I was on the hunt and stayed indoors to avoid the kelparazzi. I did find where the top of my dear Charles' head resides, though: on a peninsula in the far middle of this window seat-framed shot that skims across Lopez, west to San Juan Island. Home.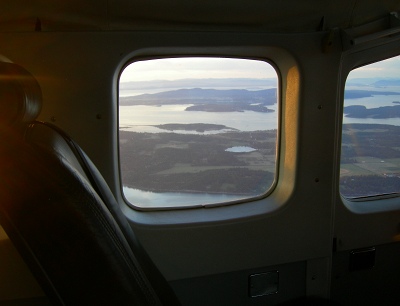 I have a humbling, long list of things for which and people for whom I give thanks in my life. Far too lengthy a tome to begin to publish here. But gazing at these photos and realizing that this is the place I've chosen to call home, eloquently sums up much of the joy and good fortune I've been so lucky to stumble upon. I'm deeply pleased to share what I can of this magic with anyone who stops by these pixels. Thanks, thanks, thanks.