November 11, 2008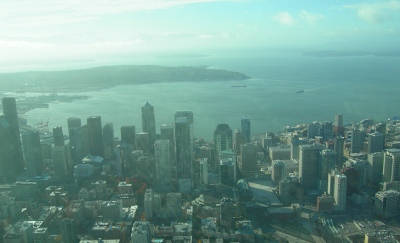 Seattle, with Puget Sound islands in the background…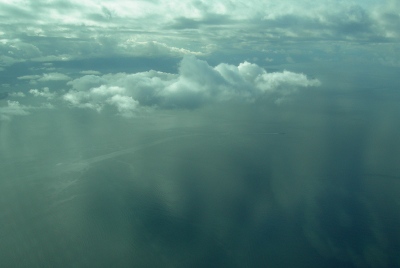 Clouds and reflective, open sea…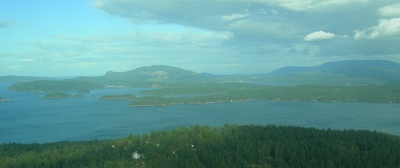 Neighboring San Juans beyond San Juan…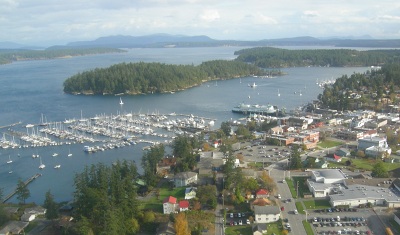 The village of Friday Harbor, complete with ferry!
Many moods.
I just returned from a very contrasting part of the country to mine: Fort Wayne, Indiana, where a concert including several of my electroacoustic pieces was held at the amazing Sweetwater Sound theater. It was inspiring to hear music that I've slaved over in my studio played back on a state-of-the-art sound system. And… sound really wonderful (phew!). It was validating, in fact. Because composers who work with electronics are also recording engineers who, once the music is written, must address many technicalities to make that music sound as it should. I have my colleague Michael Rhoades to thank for it all: this was an invaluable and delightful experience.
Getting to the Midwest from my house takes three planes and twelve hours door to door. It takes fourteen hours each way for all my New York City trips, another of which looms in a week– not before lecturing to the composition students at Cornish College of the Arts in Seattle: a five hour trek door to door. But for all the moving around the country that I'm doing so frequently these days, not once have I wished that my home were in a more conveniently located spot on the globe. Not once. It's such a complete pleasure to return to the rural peace of this island, whether by plane as photo-documented yesterday in four representative steps above, or by ferry. In fact, the only part of the journey from the SeaTac airport to my front steps that I do not especially care for, is a stretch of I-5 somewhere between the end of the Seattle skyline and the start of the agricultural views 40 minutes north. Even then, above a less than inspiring city outskirt, the sky is often riveting in its expanse, as clouds and weather trot across the atmosphere.
Today would have been my father's 80th birthday. He passed away at the unripe age of 69 from the effects of dementia and a host of other things that tagged along for the ride. A native New Yorker and avowed "city person," he was known to stand amidst beautiful country landscapes declaring "if you've seen one tree, you've seen 'em all." He was funny and I adored him. And although he could never picture himself living as I have for many years– with toes dirtied by seaweed rather than by soot– each time he visited me he seemed to understand. Were he here now, I do believe he would deeply grasp why I live the way I do. If only he were just fourteen hours away. I love you, Daddy.