May 29, 2006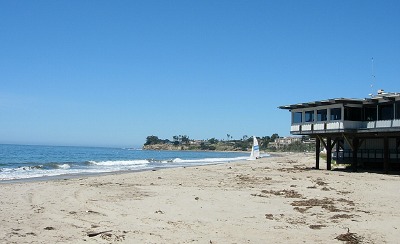 A little bit of "Water Crossing" accompanies this photo of some that's very ready to be traversed.
This is the lovely scene that greets us each time we leave the coziness of our sailboat and walk back up the dock. The Santa Barbara Yacht Club building stands guard over the incoming tides and outgoing day racers; in winter the sand is plowed 20 feet high, creating a berm to protect those spindly legs from the power of the sea.
But it is no longer winter, the berm has disappeared, and in its place is flat kelp-strewn shoreline that is about to welcome a lineup of Hobie cats ready to take up informal residence for the summer. The first of many is in the distance.
My own internal shoreline is seeing a similar shift. I've come to a welcome cadence in the back-to-back deadlines I've faced over the past eight months, delivering a number of pieces with tight performance dates attached to them. And now I have the luxury of using my time toward completing some music projects for myself this summer, until the next round of deadlines comes in like a fresh tide. I'm exhaling as I type this.
Memorial day weekend gets busy here by lunchtime, but I snapped this shot about 10:30 Sunday morning as Charles and I made our way to meet a good friend for coffee and banter. I think we finally may have seen the last of the rain in this unusually rainy season, and I'm looking forward to these waters seeing a lot more of me.500 payday loans miniumum$2000 payday loanaccounting expenses accrual loandown 0 loans property commercialloan of amortizationunit home services mortgage american loanamoratization car loans for$5000 loans autofees loan amortizing457 loans plan