July 18, 2006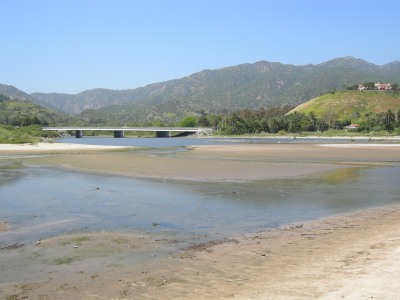 Cross Creek Bridge and the Santa Monicas
A little of my "Intermezzo" for the afternoon's intermezzo.
After lunch in mid-Malibu with a friend who lives inland, we began heading back to our respective vehicles in the parking lot. It was a beautiful day, and I turned to her and suggested that before parting and continuing our work, we stroll directly across the street to the Malibu Lagoon. This is where Malibu Creek finds its way out to the Pacific down from the Santa Monica mountains, and it's home to thousands of shore birds. I spend so much of my time on beaches to the north, that it had actually been a few years since I'd enjoyed this particular collection of driftwood, dried kelp, sand and squawks.
Behind us, a wide stretch of shoreline on which those Gidget films of the 50's were filmed (the real Gidget, 65 year young Kathy Kohner Zuckerman, still lives nearby and surfs occasionally). And in front of us, a lovely grouping of egrets you see here, both Snowy and Great, who were just wrapping up their own lunch date. Each year they build a nest in a tree above the parking lot across the street by the restaurant. Errands to Radio Shack or the shoe repair fellow are accompanied by a magical flutter of white in the high branches. I guess we all enjoy crossing to the other side of the road once in a while.