March 27, 2010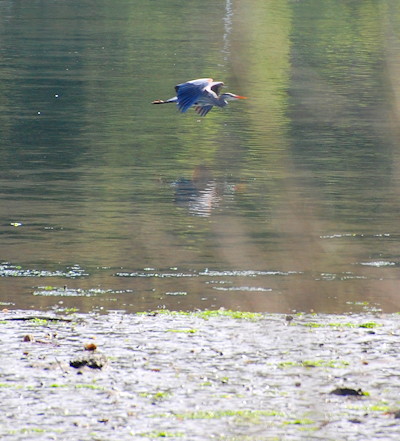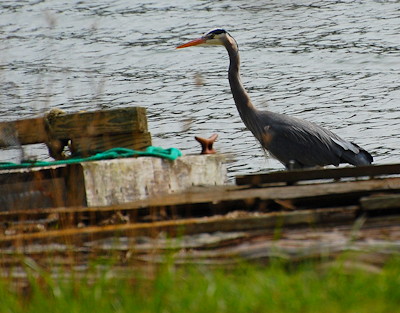 …about the music
From above, looking below.
Ok, an electronic wink goes to the first person who "gets" the title of this post.
And it's quite accurate. I was seeking ways to procrastinate from composing, and it was so warm and sunny that I had to step outside this afternoon. Having recently outgrown the space of my studio at my wooded home a very short walk from the sand, when looking for larger business quarters for Shapiro Note Alignment Industries, Ltd., a few months ago (aka, SNAIL, since that's about the pace I feel like I'm writing sometimes), I opted for a waterfront location for my commute to work. And indeed I procured one, in the form of a fabulous rental that's only yards from the edge of a dramatic inlet that morphs daily from lapping saltwater, to a sprawling mud flat, and back. More pix of this soon; I've been taking plenty. So "stepping outside" in this case means walking two feet from my workstation onto the seaside deck. Ahhhhhh.
But back to the birds. I grabbed my Larger, Better Camera and positioned it to focus on the hummingbird feeder I just put out yesterday after spotting spring's first fluttering diabetic-in-training. I waited patiently for an especially cute newcomer to return (just look at those tiny feet in the photo below!), and glanced up just as a Great Blue Heron was coming in for a landing, alighting directly in front of me. What a lovely surprise visit.
Working next to the water means having a lot of company throughout the day. Apart from the occasional deer, fox, or neighbor's goofy Labrador, it's an endless parade of avian beauty: seafarers like herons, ducks, geese and gulls, seed-farers like chickadees, nuthatches, finches and flickers, and most strikingly, the see-everything bald eagles who circle gracefully above my head every day (possibly sizing me up to see if I'm a candidate for lunch). It's so distracting, it's amazing I can get any work done at all. Ahhhhhh.