April 8, 2006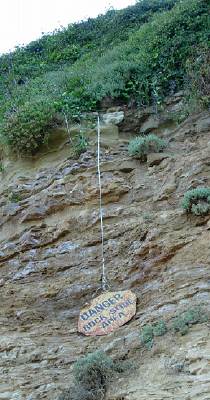 Click on the blue music icon above to hear a little dangerous music.
Here in the officially designated Rock Slide Area (see how official this sign is?), the rocks keep tumbling down… that sign doesn't lie! Especially after these rains. On the beach, the cliffs have a very different profile every couple of days, and several impressive and heavy piles of rubble now adorn the small space between mean tide and the vertical bluff. In lower Malibu yesterday a rock slide on Pacific Coast Highway snarled traffic so badly, I was thankful to only have to make it to my local market.
I do find something amusing about these precariously perched signs. I'm glad, for aesthetic reasons, that they're not any larger, but frankly you have to get pretty close up to the cliff that's so dangerous just to read what the sign says. Could be the last thing you see!