May 15, 2009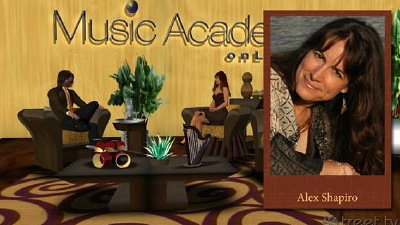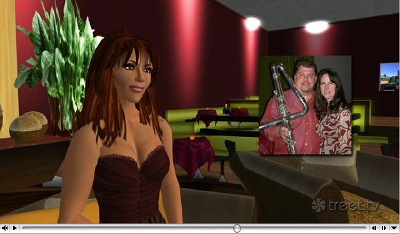 Click either graphic above to watch the show.
I'm so consumed with my First Life that I barely have time for a Second Life. But for the third time, I've had the pleasure of being a real guest in a compelling virtual world. I'm convinced that this alternative, parallel venue is going to become as significant as anything else to which our attention and time are tethered on the internet. And just as with Twitter, while I don't yet participate much, I fully believe in its power.
If you click on a graphic above, you'll be led to a page that will demand your patience as it loads up the stream of Music Academy Onlive's latest show for Second Life Cable Network, hosted by Benton Wunderlich (Dave Schwartz, in Life, Version 1.0). You can let it do its thing in the background while you surf the net, do your laundry, or get some of your own actual work done. At some point, the Quicktime video will be ready to go and after a general introduction, you can hear two of my electroacoustic works in their entirety: Below, for contrabass flute, electronics, and Pacific Humpback Whale (who has the best pitch of us all) performed by Peter Sheridan, and Desert Tide, for soprano saxophone and electronics, performed by Doug Masek.
About halfway in, after the music, there's a 25-minute interview with me during which I do my best to be mildly interesting and entertaining. Remember what you paid to watch it, folks. Heck, the top I'm wearing (or what's left of it) and those nice gams of mine in the long shots are worth checking out, if only to see what I might never have the nerve to wear on a show in Life Number One.