March 15, 2006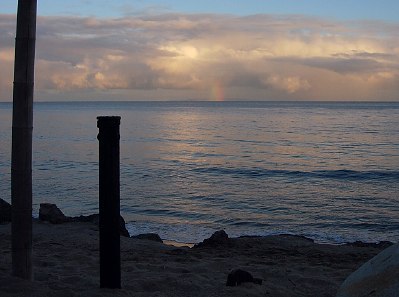 Click on the blue music icon above to hear a movement from my "Evensong Suite" titled "Phos Hilaron," to accompany this rainbow.
These photos say it all; there's nothing for me to add. Date: this past Sunday. Location: curled up in a wide-slatted Adirondack chair on the sand in front of the Paradise Cove Beach Cafe, bottle of very good Chardonnay close at hand. View: straight out SSE to the Palos Verdes Peninsula, which is the most southern tip of the Santa Monica Bay. Misc: Charles and I had just returned from our usual walk to the Bay's most northern tip, Point Dume, and settled in for a late afternoon cocktail just in time for the show.
In the second photo, the setting sun opposite the peninsula reflects its fiery light in the window of a house. And that house happens to be in the center of the rainbow from our vantage point. Poetic. I wonder who lives there, and whether they felt anything different during those moments.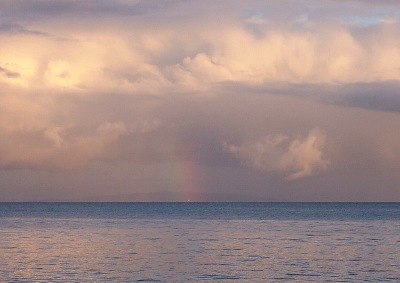 hot movie chick themovies lesbian hentailist movies best teenmovie madrusmadrus moviesmasturbating moviesage deterioration movietheater sex movie Map