February 17, 2009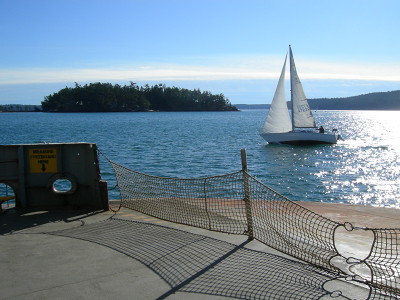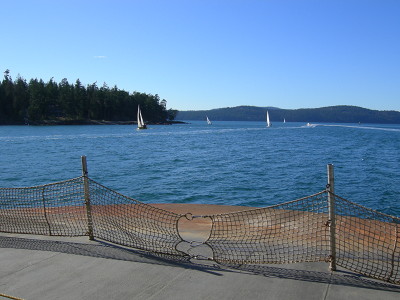 Water voyage.
I love taking the ferry. If I didn't love it, I'd be living in the wrong place, since ferries are the primary method of hopping off this bridge-less island. This week I got to ride four of them: one to Anacortes and back when I drove down to Seattle, and two days later, one from neighboring Orcas Island and back, when I went to a friend's concert. You can't spell "hooray!" without: a-h-o-y!
I returned from Orcas early Sunday afternoon, on a day so clear and bright that it was hard to believe it ever rains here at all. There happened to be a sailboat regatta that day, and the ferry captain had his hands full as his huge vessel Yakima barreled through the channel into oncoming and, occasionally, clueless traffic. Two boats in particular appeared to come closer to the ship than I might have dared. One was rewarded with an insistent and loud honk of the big horn. The other, on a potential collision course with us as he crossed our bow, necessitated the ferry slowing down to allow him room to pass in front of us rather than… uh, under us. Rules of the watery road are that vessels without power have right of way, since they often can't quickly maneuver. That being said, it's not the wisest thing for a 27 foot sloop to tempt fate and try to partner dance with a 382 foot long, 73 foot wide, roughly 2000 ton powered behemoth of the sea.
But physics-defying proximity has its payoff to a camera-toting passenger like me, and I was able to get a few nice pix like all of these, as I stood at the bow with nothing but a tennis net separating me from the sailboats and the chilly Salish Sea.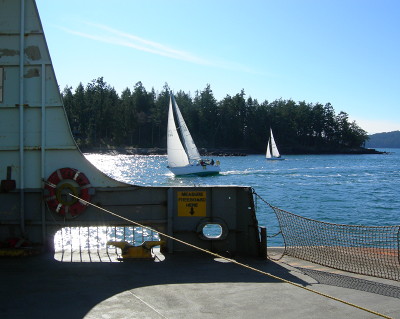 Upon closer inspection of the above snapshot, fellow sailors will appreciate the subtle humor in the alignment of the passing sloop, and that of the sign on the ferry's port side: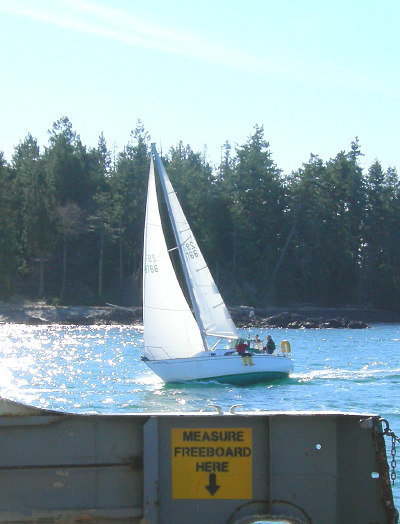 The arrow should have been pointing UP!
I'll post more sea-oriented photos before week's end. And then, I'll be off on a short adventure to the wild western coast of Vancouver Island for the weekend, which means a round trip of five ferries! Hooray!
Which is Pig Latin for "ahoy," of course.