March 17, 2013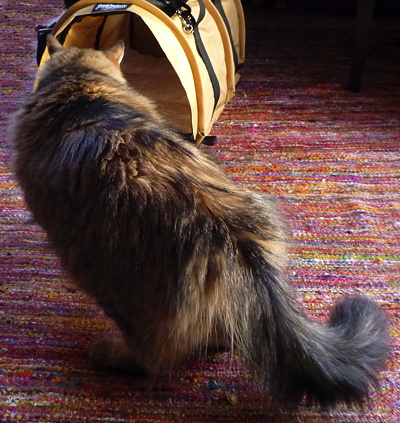 …about the music
One cool cat.
My life at home as a worker bee composer is pretty uneventful. There's the sedentary aspect: sitting at my desk, managing my business, putting some music on the page, yada yada yada. Which is balanced by intense physical labor: pacing around the living room as I search for elusive ideas (funny; the little suckers aren't under the sofa where I left them yesterday), and tamping down an already worn path that betrays my many treks to and from the kitchen for, well, anything. Because consuming anything is always easier than composing something.
As much as I travel throughout the year (I'm just shy of the 500,000 mile mark on my Delta account, and fully expect them to send me a gold watch), my absolute mostess very very favoritest thing is to hole up here in this cabin by the sea and do my work. Or not do my work and just fret about needing to do my work. It really matters not; the point is, I'm beyond thrilled just being here, and am becoming far more circum-spect about the circum-stances for which I'll agree to flit away. I love my uneventful home life.
If you read the previous blog post or glanced at my Facebook page earlier this month, you know I have one more furry reason to be flit-resistant: Bella. She was an amazingly docile trooper on our flight/buses/ferry/car ride (did I mention spaceship? I think there was one of those, too) from Los Angeles to Friday Harbor, and is settling into island life nicely (Bella didn't need the kitty prozac, but toward the end of the journey I was eying it with great interest). Her tolerance for living with someone from whom bizarre, semi-musical sounds erupt at random moments is admirable. Sweet natured as she is, after I finished a mix the other day (entailing playing back the same stubborn passages over and over and over again) I actually felt sorry for her that she didn't get adopted by a librarian. So far I think her sole heartbreak has been the devastating discovery that not only do I own a vacuum cleaner, but that I occasionally plug it in and turn it on.
Poor kitty.
Nonetheless, there are perks to living here, in addition to the free-flowing high-end kibble and tons of petting. She and I enjoy a shared hobby of birdwatching: each morning I put seed out on the deck, and like clockwork, it's time for her favorite channel, Cat TV, to begin its daily broadcast.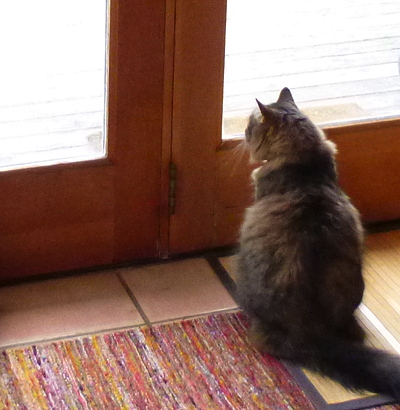 At the moment, red-winged blackbirds, cowbirds and starlings are our seasonal nest-aurant clientele. Apparently pleased by the menu, they all chirp hysterically on one side of the door. Bella chirps back on the other side, with that funny dry cackle that some cats have. Her huge tail swishes back and forth like a whip as she crouches low, pounce-ready. Were she on the deck with the birds, between the sound effects and the dance moves, she'd have zero chance of catching one of them.
But she doesn't know that,
and the birds don't see her behind the glass.
My blessed kingdom is at peace.
Having never before seen eagles, the look on Bella's face when one flew by was priceless.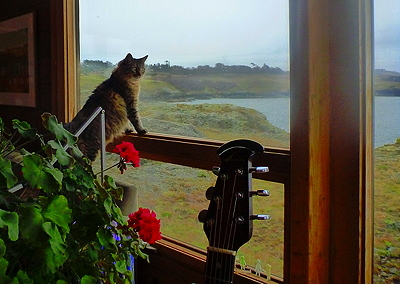 WTF??


And she probably thought the same of me, since every time I see one (which is roughly twenty times a day, because I'm smack dab in the center of their hilltop perches and rocky outcroppings), I'm in awe. Whether they're taking off,
Or coming in for a landing,
my excitement just never lessens. They're magnificent.
(Yes, this may be the only blog you read today that features both cute kitty pictures, AND Bald Eagles.)
So, with a new fuzzy companion underfoot, I continue to pace, and hem, and haw, and munch, and grab my camera at any opportunity, and even more than occasionally… actually get the work at hand, done.
The difference is that now, I am under 24/7 surveillance.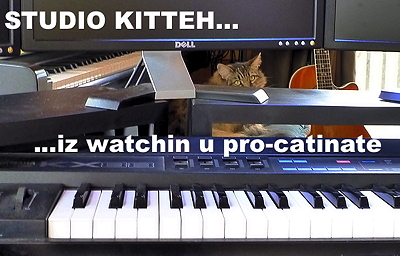 Bella is keeping me honest.
Bella knows all.
I'm so relieved cats can't talk.
Pardon me while I head back to the fridge.