September 21, 2008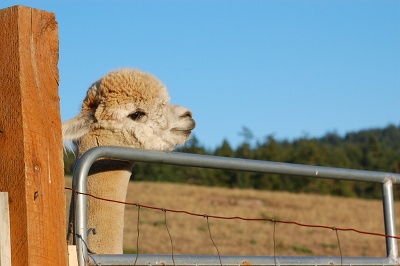 A happy dance written for the offspring of a friend.
Hello again my happy kelphistos, I hope everyone had a great week. I had the option of posting a photo today from that other small island I visit a lot, and showing you really really tall, impressive buildings, lots and lots of bright yellow taxi cabs, and a reasonable amount of neon signage. An accompanying audio file could have included insistent, if ineffective honks, the roar of bus engines as they pull away from the curb, and an array of colorful curse words in languages I never before knew existed and may never have the extreme pleasure of hearing again.
Instead, I'm opting to feature Houdini, who is the top sire of a good sized alpaca herd owned by Krystal Acres up here. When I took yet another of my island visitors to this always-picturesque farm the week before last, set amidst rolling pastures and glistening ponds, I was introduced to this fella and informed that nearly all of the cute babies we saw bouncing around were here thanks to his uh, ardent, efforts.
Now, that's a job description anyone would love. No wonder he's smiling!