August 9, 2008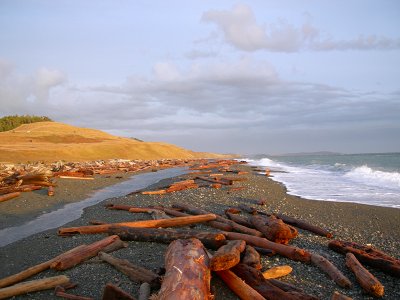 Looking and listening south at South Beach.
Summer in these islands is usually coated with a thin layer of silt and dust. Mystical particles settle from the woods and the sky and the unpaved side roads that take my bicycle to new stands of thistle and gestating blackberry bushes. Everyone's truck is known not as blue or silver, but "island colored," as taupey beige nearly camouflages the hard metal that waits in our driveway. So it was a surprise last week and then again today, when heavy rainfall visited, washing away the indictments of July's drought and bringing moisture to plants that had been prepared to tough it out until the fall. Between fits of downpour, the sun blazed and spent its Saturday painting canvases of magic.
I love the rain. I love the smell and the negative ions and the sharp color contrasts that pop like fireworks in front of my eyes. South Beach, photo-ed above, lends itself so well to all the vivid joys I sense when water pours down from the sky as well as in from the sea.