June 22, 2008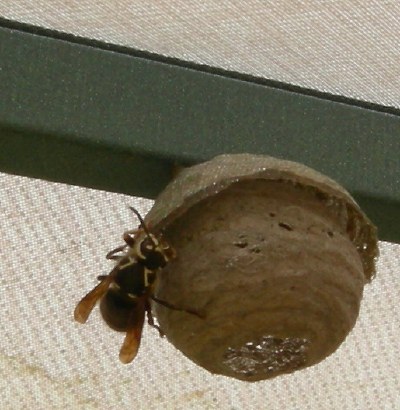 Elegy.
I feel terrible.
I had to make a choice.
And it was not in this creature's favor.
I noticed this, uh, lovely Japanese lantern dangling from the patio table umbrella. It had not been there the day before. Apparently, with the onset of summer, a team of stealth decorators had rifled through the Crate & Barrel, West Elm and Pottery Barn catalogs and decided that my outdoor dining set up needed a little panache.
What caught my eyes first, before seeing the new lighting fixture, was the decorator herself clinging to it and making sure it met all electrical and wiring code standards. Clearly an accomplished and professional sub-contractor, this Bald Faced Hornet had not missed a meal, and was nearly as large as one of my hummingbirds.
Even I, a wannabe entomologist, was intimidated. My thoughts quickly turned from the possibility of a feature in Architectural Digest, to the possibility of a really painful bite and a trip to the ER with Charles, who is allergic to stings. These nests can become as large as a basketball and house more team members than will ever make the NBA Finals.
I had to make a choice.
And it was not in this creature's favor.
The pest control guy came over within the hour, magic tube of menacing white powder in hand, and gave this talented artist The Final Spritz. I shouldn't have watched. She fought, and recoiled, and crumpled, and fought again, and cringed against the poison.
I cringed along with her. Offering my meaningless and hypocritical apologies as she convulsed, I was reminded of the essay I wrote a few years ago about a similar episode with the same result. One which left me with the same, sad emotions.
I had to make a choice.
And it was not in my heart's favor, either.