May 19, 2008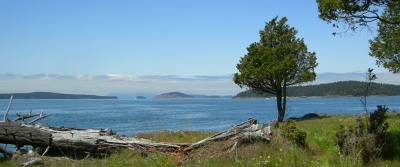 Quite a water voyage.
Few words are needed to describe the utter joy of hopping in a kayak on a bright sunny day, and paddling for miles from island to island in this never-ending archipelago of tree-strewn gems. Still fewer words can be mustered to express the awe at having such an experience in one's own backyard. So without all those unnecessary words and just a handful of descriptive ones, I offer a mini photo log of how I ditched all my work and spent Thursday floating on the Salish Sea. Its stunning remoteness is not remotely akin to how I will spend this coming Thursday, awash in a sea of concrete and humans, back on that other small island I visit from time to time, Manhattan. By the time you read this I will be nowhere near my idyllic home, and am hopeful that these pix will hold you until the weekend. They certainly will hold me.


A riot of wildflowers in every meadow. Can't you see their little picket signs?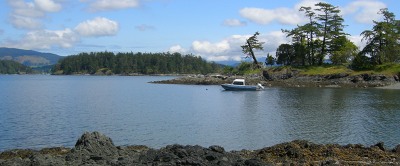 There are occasional signs of life in these uninhabited coves. We beached our kayaks on the shore in the foreground, hijacked this cool little power boat and took off real fast. Naw…


Arbutus trees, aka Pacific Madrona, are island treasures. Their incredible bark is arbeautiful.


Squint and you'll see my house across the water, smack dab in the middle of the photo between the camas petals. What? You only see trees and water? Yeah, that's why I live here!


Surrounded by moss, grows a cactus! When meteorological worlds collide.


Tons of these beauties, everywhere. They are E Pluribus Enormous!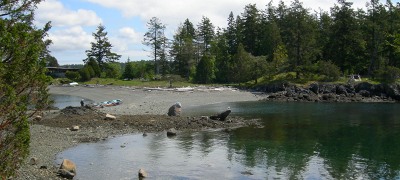 At high tide, this spit has been spat out and these become separate islands. Looks a lot like Gilligan might be here…
Thus concludes your self-guided tour of the San Juans. Don't forget to tip your docent, and have a great week!