January 8, 2008
I'm most comfortable as seen above, peering through driftwood on a brisk day, red nose and clear eyes gazing slightly past the camera to the exquisite coastline of the Canadian islands directly in front of me:
But I have just returned from that chamber music conference in Manhattan, where I spent several days standing proudly by my offerings (51 scores, 16 CDs, 5 rubber duckies, 4 shells from my beach, 2 listening stations, 1 rubber snake).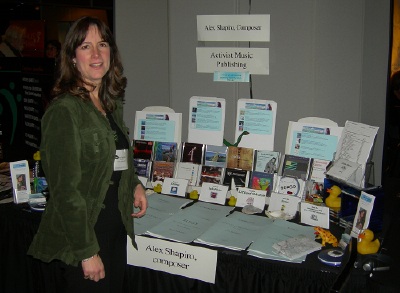 Onward and upward.
I had a terrific time. Saw oodles of dear friends and colleagues, did a really enjoyable interview with the completely delightful John Clare for his WITF-FM radio show, Composing Thoughts, and drummed up lots and lots of business from the helm of my exhibit table at the Westin Times Square. In my line of work, there tends to be a thin line between the business and the social, so the whole shebang is a ton of fun. But this former Manhattanite is exceedingly happy to be home on another island on what seems like, after 16 hours of travel, the other side of the world. In so many ways!