December 21, 2007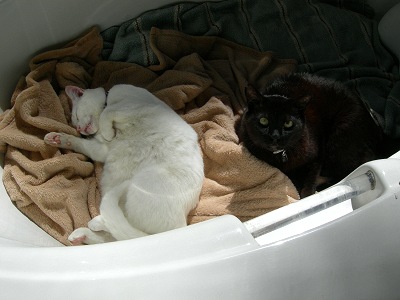 Re:pair, for this pair.
Isn't this what everyone finds in their bathtub?
These are self-cleaning kitties.
With some sunlight streaming in through the adjacent picture window, the downstairs tub is a fine place to take cover when too many people are traipsing in and out of the house and the humans who claim to own you (ha! what a joke) want to shield you from the chaos. Truth be told, these cats never need shielding; they love people no matter what sort of large power tools they might be using. That puts them one step ahead in the evolutionary chain from their mother, the sonically intolerant composer. But since Smudge and Moses could either be lunch or at least part of the weightlifting program for a bald eagle or owl, when the front door needs to be kept open this is one of several safe refuges around.
If I had a photo, and yes, I promise sometime I will, I would have posted an even more entertaining pic of Moses (dressed in black) at my feet, underneath the upstairs shower. As in, IN the shower. With me. Yes, while the water is pouring down. Loving it (hey, who wouldn't? Oh, wait, this isn't that sort of blog…). Moses always tries to be as close to the water when I'm bathing as possible. In past houses this usually required sitting on the edge of the tub and craning his neck until the spray rained down on his clueless head. But here he's found Nirvana: an over-sized walk-in, stretch your legs kinda shower that has plenty of room for a litter of seafaring cats. Of course, the only one I know is Moses.
I will try to remember to bring my camera upstairs with me. Stop giggling and don't get your hopes up: you'll see ALL of Moses, and… glean an idea of my shoe size.