May 12, 2012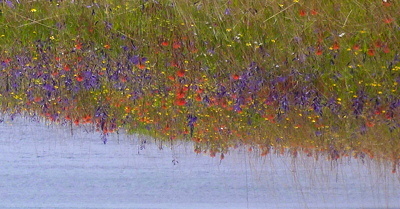 …about the music
Beauty that turned my world upside down.
There are lots of nifty benefits that result from being an active composer-kelpista blogger. One of them is the serendipity of making new friends from all over the planet. I get emails from every continent. Well, almost: not a single soul on Antarctica has written me. Yet. C'mon, you glacial-based scientists! You're freezing your butts off down there and stuck inside with nothing but your computers and chocolate bars! What else do you have to do other than read my blog?
I will report back when I hear from someone living on Antarctica. Promise.
Other times, my readers are right in my back yard. As in, living on a neighboring island directly across the moat surrounding mine. Not long ago, I got a Facebook message from a fellow San Juan Islands-er (not to be confused with a San Juan Islander, who lives on San Juan Island in addition to living in the San Juan Islands. Oh boy, this can get confusing to visitors). Phil Green, the longtime caretaker of Yellow Island, extended an invitation to me and two other local bloggers he loves reading, Shann Weston and Monika Wieland, for a private visit to the enchanted floating nature preserve he stewards: a quiet atoll of almost-but-not-quite 11 acres that can only be reached by a small boat, or Diana Nyad. Frankly, all visits to this botanical oasis are private, as there are rarely more than six humans afoot on the isle at any one time. The thing is so small, it would probably sink under the weight of several average Americans. To be hosted by Yellow's sole resident is quite special, indeed. In return for fetching and, presumably, returning us to and from Friday Harbor, Phil suggested that the three of us, each photo-shooting maniacs with a unique voice, blog about our afternoon.
And so, at midday on a Tuesday, we played hooky like a giddy group of junior high kids and met on the dock. The three of us, plus two of our partners who are also avid nature types, hopped onto Phil's groovy new skiff, and off we went.
Not too long after revving the engine, we had arrived.
To nowhere. And everywhere.
Paradise.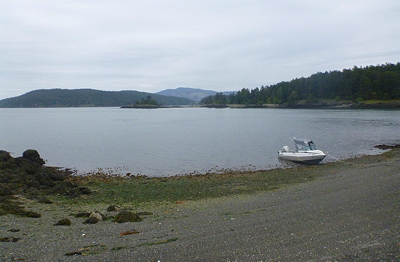 Yes, one could hear the theme from Gilligan's Island wafting through the air. As I said, presumably, we'd return at some point. Uh, maybe.


The day began a little on the gray side, but as soon as we walked up the first hill, sun and color surrounded us:

It's the height of wildflower season up here, and Yellow is renowned for its display. With neither actors nor grazing mammals to chew the scenery, the native plant life is a multi-sensory encyclopedic explosion of vast beauty.

Well, there were no actors or animals, but I did stumble upon two homo sapiens crouched low in the fields. They appeared potentially dangerous if disturbed, so I was careful to keep my distance.


It goes without saying that photos cannot possibly do justice to the overwhelming experience of standing alone in an isolated meadow with millions of flowers, bees, birds, and a pollen count that would lay any allergy-prone creature flat. Every sense is heightened and thrilled; atop one of many knolls, dwarfed by Pacific Madrones and staring out to other islands across a sea of endless buttercups and camus, I had become Alice in Wonderland, and even without the LSD, everything looked reaaaallllly psychedelic.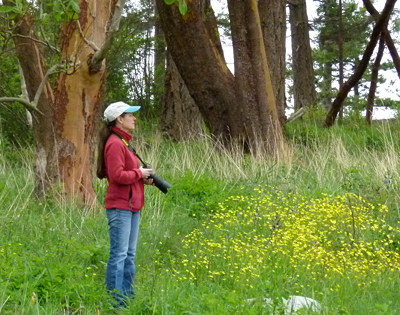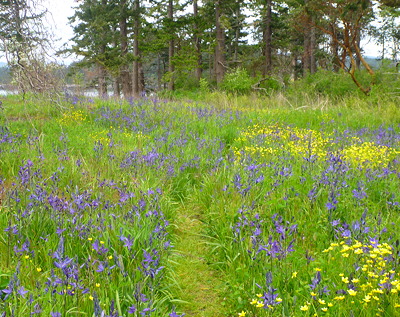 Looking a little closer, every flower popped like one of those black light posters from the late 60's: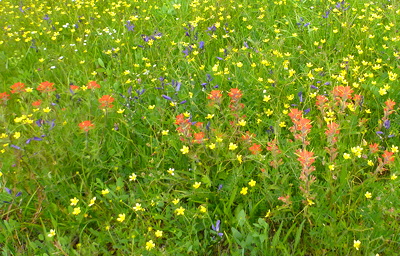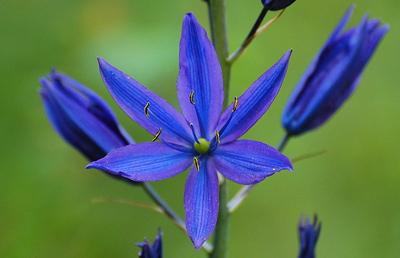 If it weren't for the little path…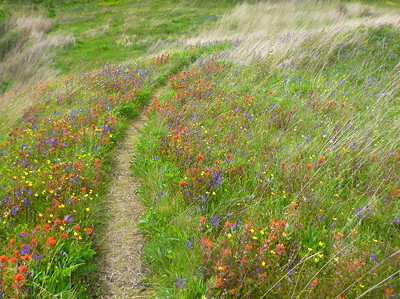 …you could easily lose yourself…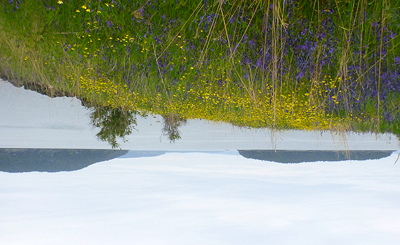 …just like Alice.
Composers are incapable of stopping the composing gerbils that run the musical wheels spinning endlessly in our skulls, and those goofy little rodents hit pay dirt upon landing in this fantastic buzzing, chirping, splashing, lapping, branch-rustling sonic environment. The timbres and rhythms and frequencies and motifs all served to really get the gerbils going. No telling what the heck is going to spew from me musically next, but it might make someone sneeze.
The bees even donned spiffy attire for their concert performance: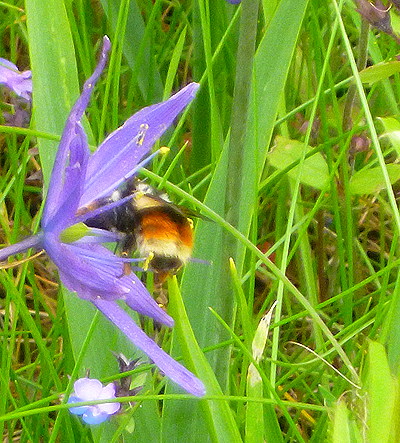 As gorgeous as the flowers, are the Madrones that love the island's sunshine. Many refer to them by their Latin name, Arbutus; I call them Arbeautiful, because they truly are. Abundant in this part of the Northwest, they're among the most sensual trees I've ever seen, with trunks that look like dancers: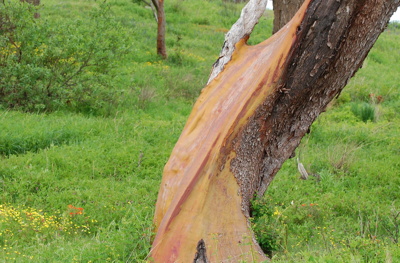 Even better, sometimes like nude dancers: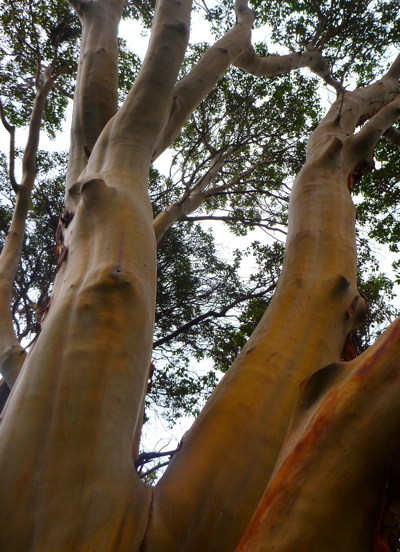 Oooh, you just want to reach out and stroke the hard, muscular smoothness…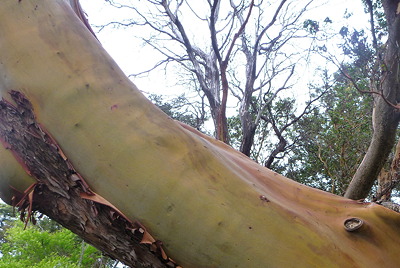 …which alternates with varying degrees of sharp, peeling bark (maybe some sort of kinky pleasure/pain thing for nature's amusement, I dunno):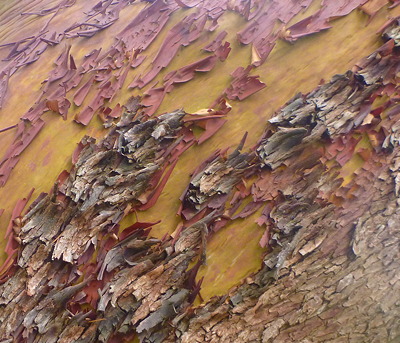 Tucked into all of this magic is the very, very old driftwood cabin where Phil lives.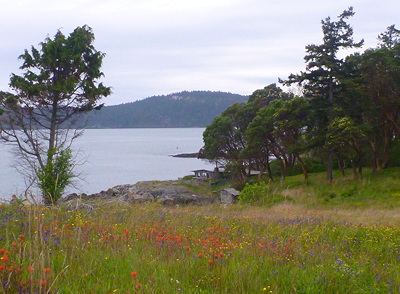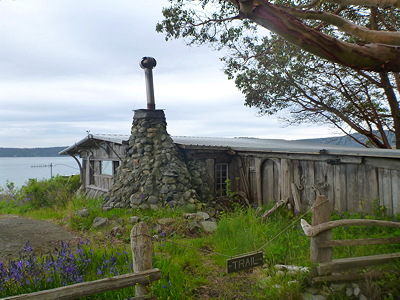 It's weathered decades of storms and is ready for more. Just like Phil.
A few years ago, friends and I kayaked onto this same beach at a far higher tide, when sand, not kelp, was the substrate. This day featured one of the year's absolute lowest tides, and the moon's proximity pulled back layers of water that normally protect all these squishy secrets. A lone dinghy teased me with a reminder of possible escape. But who would want to?
While I most certainly didn't want to leave, in this photo, I look as though I needed directions:

"Let's see… take the crosstown bus at 86th to the IRT#1 going south, get off at 66th, Lincoln Center is across the street and there's a Starbucks on Columbus… oh, wait, wrong map…"


There are more than a few moments during the year when I'm keenly aware of the two extremes of my life, from the ultra-urban to the über-rural. Standing in this precious wilderness, and realizing that it only took me 10 minutes in a tiny boat to get here from where I live, was definitely one of those times.
To the south-ish, a passing reminder of civilization was the postcard-perfect view of a ferry in the distance.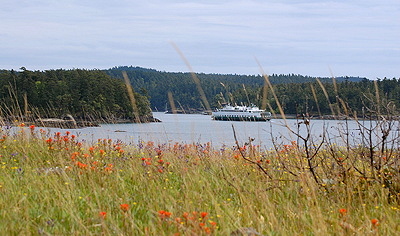 And to the north-ish, at least one other human shared my view of Canada's southern Gulf islands from their sailboat: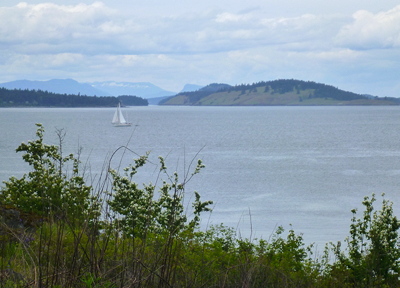 And at the end of the day, six humans felt exceedingly peaceful, joyous and fortunate to call this wonder-island archipelago home.
Thanks, Phil. What a perfect Tuesday afternoon.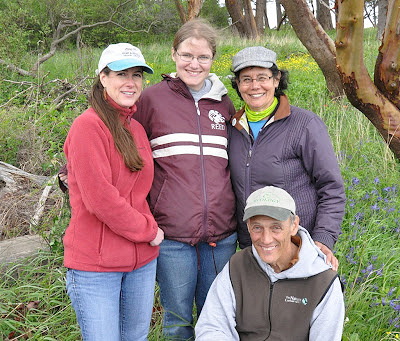 Your faithful scribe, Monika, Shann, and Phil. Do we look totally blissed out, or what?