September 9, 2007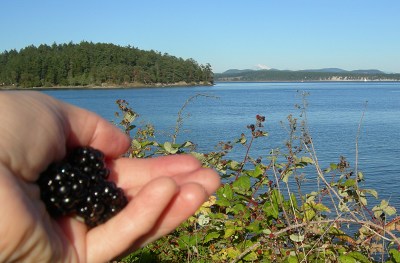 Waltz for Baker's berries.
Mt. Baker, that is. Since I do not bake. I make a mean chocolate mousse pie, but like my music, that creation does not involve an oven. Unless I'm doing something very wrong. However, if you put these berries in Mt. Baker, they would indeed be baked berries, smoldering yet still explosively sweet, I'm sure.
I felt guilty for eating all the berries in my last post, and so here are some from this afternoon's stroll, volcanic backdrop provided for extra effect. I dunno what it is about my camera, a decent 8 megapixel pocket Nikon, but just for the record, to the naked, unenpixelated eye, Mt. Baker looms literally twice as large as it seems in this shot. My hand, for what it's worth, is considered unusually small by everyone except the flies I swat and can only barely reach an octave on a piano. It's fun to see it frighten all of Lopez Island with its threat of tossing berry bombs into the water and causing a tsunami. Since I am not only not a baker, not a concert pianist, but also not a photographer (I just play one on this blog), perhaps some dear reader can enlighten me about this odd visual phenomenon.