May 17, 2007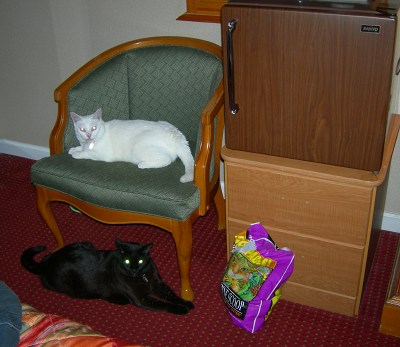 Prelude to a new life phase.
Any musician could have blogged their tour with photos of scenery and drunken post-show debauchery. Ours has had an acceptable amount of both. Yet few blogs, if any, have shown the ordeals of the road through the eyes of the silent, dedicated, resigned warriors: house cats on the move.
As I see it, I've filled a necessary void.
Ok, maybe not. But at least Charles and I have remained charmed and amused by sharing road life with creatures who are not naturally suited to suitcase living.
1200 miles and a few quick stop-off visits to northwest friends later, the ferry from Anacortes deposited us onto the shores of San Juan Island this afternoon, and we drove straight off the ramp to the quaint office of the title company: a wooden bungalow tucked between the airstrip and the little league ball field. We signed all the papers and closed escrow on a home that we think will nuture great love and creativity for years to come, and deposited ourselves, our dinner and a couple of bottles of good wine in a local hotel we've enjoyed several times before as re-con tourists. Tonight though, was different: we are here, for real, permanently, on a one-way ticket. If we had any doubts, viewing our still-California-plated car in the driveway and our still-California- I.D.-tagged kitties on the bed made it very clear: this island is now our home. We have landed.
We move into our new digs this weekend and begin the perplexing process of asking the oft-unanswered question: "What the heck DID I pack in this box??". 220 cartons of books, CDs, rocks, shells, wine glasses and plastic dinos later, answers may be revealed. For now, we simply say, "Ahhhhhhh."
Just like Mo and Smudge, seen here chillin' in Motel Number Four of a four-part series.