February 9, 2007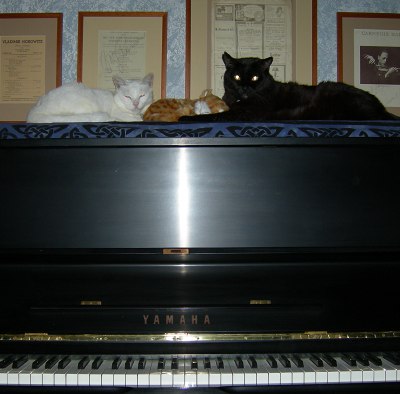 Piano music, of course.
A new friend!
Well, sort of.
By now, my regular kelp-istas know Smudge and Moses.
But this fellow in the middle… hmmm….
All I can say is, insert two batteries, and watch him breathe while you hear him purr. Those nifty tricks, along with fur that's every bit as soft as his adopted brothers, were enough to convince my guys that curling up for a nap with this new kid in one of their favorite spots wouldn't be a bad idea.
And so there the three of them were when I walked into the studio.
Impatiently awaiting a new Shapiro serenade, no doubt.
The piano is a terrific upright that has followed me through my life, beginning from my conservatory days 25+ years ago when it was brand new. And above it are four of nearly 20 treasured, autographed programs from Carnegie Hall's concerts during the first half of the 20th century. In this photo, you can see the revered signatures of Vladimir Horowitz, 1944; Fritz Reiner and Rudolph Serkin, 1944; Sergei Rachmaninoff, 1922, and Jascha Heifetz, about 1945. Wow. Other brilliant ghosts who surround me (and haunt and heckle me!) while I work include Isaac Stern, Mstislav Rostropovich, Josef Hofmann, Itzhak Perlman and Van Cliburn. And the list goes on. Each one of these was lovingly procured and saved by my grandmother, Augusta Shapiro.
My father's mother, she adored music. Living in lower Manhattan most of their life, Gus and Archiebald, my grandfather, endured the Depression and the years which followed with not much more than a couple of nickels to rub together. But Gus carefully saved enough change to be able to buy tickets to many of the greatest concerts that have reverberated from Carnegie Hall's stage. After each one, this diminutive woman would make her way back to the receiving line at the green room, meet the musicians and have them sign her program.
Bless her.
Many years ago I got to perform on that stage. Looking out to the audience from such a hallowed vantage point, I could swear I saw Gus, now long gone, smiling back, just waiting for her chance for another autographed program to add to her collection.