January 15, 2007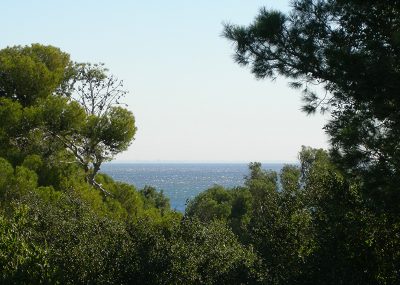 A clip of a piece that's fun for any bari sax to blow: "Of Wind and Touch."
I think we've had more wind this season than in any other December and January I can recall. It seems as though each week brings another "wind event," as the meteorologists are fond of calling these dry hurricanes. Birds and debris are launched in erratic circles, and my front yard is a repository for countless tossed palm fronds and mailbox flyers. Indeed, I now realize why they're called flyers.
Tasks as simple as going outside to put the recycling in the bin become exercises in duck-and-cover techniques with every 50 MPH gust. Planters half my weight lie as fallen soldiers to nature's invisible cannonballs. I've given up trying to keep anything upright.
Of course, being a composer and not a photographer means that you can grasp little or none of this drama via the photo above, snapped in between gusts a few minutes ago from my deck. But really: there are beautiful whitecaps out on the sea today, and the ocean churns and sparkles under a clear, constantly moving sky.