September 23, 2006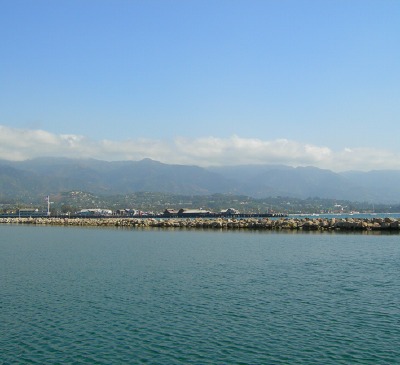 A little depth from "Deep."
The first half of our weekend was spent very happily in Santa Barbara; first with a variety of Charles' work-related colleagues/friends Friday night at a seaside joint with fast-flowing adult beverages and great tuna poo-poos (sounds awful, huh? but deliiisssh) and then lounging this afternoon amidst the sooty ash (see below) on our sailboat enjoying the view from our magical slip (see above). I snapped this shot today in the early afternoon, before the winds shoved the smoke of the now 120,000 acre wildfire toward the coast. An hour later, the air smelled of putrid burning and my eyes stung. It's being called the Day Fire, but as night continues, vicious Santa Ana winds are gusting between 60 and 75 MPH through the canyon passes and making things very, very difficult for the intrepid firefighters. They are all heroes.
Despite the fire-weather challenges of the environment, the primary reason for our return to Los Angeles County this evening was my desire to attend a very cool house concert in town on Sunday, on which my friend and contrabassoon-tooting pal, Carolyn Beck, will be tooting her way through one of my more interesting pieces, Deep.
From one set of waters, to another. If only my music were a rain dance. My thoughts are with those who, as I have in the past, are gazing from their front door and viewing a looming wall of flame in front of them.
donita dunes moviesdates release movie dvdwholesale movies distributors dvdthe elektra movieerotic movie clipsfetish foot moviesanimal free moviesmovie free samples deepthroat Map