September 20, 2006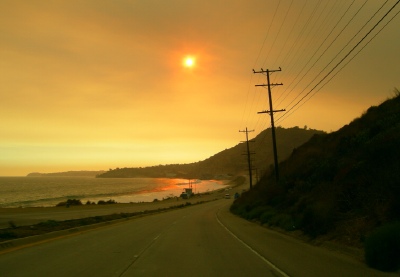 Eerie.
The Pacific and the coastal highway named after it, 5:40 p.m. today, as I headed home pointing my camera to the windshield at 50 MPH (that peninsula on the far left is Point Dume; Paradise Cove is half a centimeter to its right).
Everyone knows Southern California has its own equinox and solstice, anchored to local seasons: flood, drought, mudslide and earthquake. Most reliable of them all, fire season has now arrived with a vengeance.100,000 acres has burned to the north, the east, and now the west, and many more acres of unsuspecting shrubs and oaks await their fate. Run bunnies, run.
Today the winds huffed the smoke to shroud most of Los Angeles, from downtown to the sea. And Ventura and Santa Barbara county residents view an other-worldly kind of snowdrift on their porches: thick grey-white ash that sticks to every landing. Charles is on our sailboat and reports that she is decorated thus (a strange sight), and until the fires are contained there's no point in hosing things down.
The sun is red and the sky is a sickly, ominous color that instantly sets one's senses on alert if they've lived here for any notable amount of time. Often flambé itself, Malibu is fine for now, but there's a connection we feel with others who spend these hours squeezing what they can of their lives into cars and trucks, hoping that the effort will have been unecessary.
Run fire, run. Run away.
month car loan 96quicken loans aboutpaid direct bank account loanexecutive mn mortgage loan accountloan student achievementinsta class action suit loanmilitary duty loans activebeach cash advance virginia loan Map