January 6, 2011

…about the music
Calm seas, and chakras.
Above, last night's sunset. Or, more accurately, sunsink. Somewhere around 25 degrees latitude; everywhere, balmy. Shortly prior to this, the Symphonic Voyages passengers were treated to a terrific symphony concert of Tchaikovsky and Stravinsky, plus sea-faring soprano Susan Lorette Dunn's wonderful performance of a set of fun songs by Canteloube. Thanks to the combination of seasoned pro musicians and conductor Larry Rachleff's truly magic wand, everything sounds very, very beautiful and cohesive. A man said to me, "I expected this to be good. But I didn't expect it to be this good!". Yup.
And I gotta say, there is absolutely nothing to compare to the experience of listening to this level of music, while sitting comfortably in an 800 seat theater on a long, plush velvet banquette with plenty of room to stretch your legs, along with a little glass table that can hold a beverage, should a listener choose to enjoy one during the performance. I wish all concert halls were designed as well as this one was to accommodate something as common as four limbs joined together by a torso. While the acoustics are no match for L.A.'s Disney Hall, the pure enjoyment of sitting in a relaxed, natural position allows the music to infiltrate my heart in a way that Disney's ultra-cramped seats cannot. I'm not a very large human, yet the mere act of attempting to cross my legs in that venue requires an athletic skill set I've yet to master.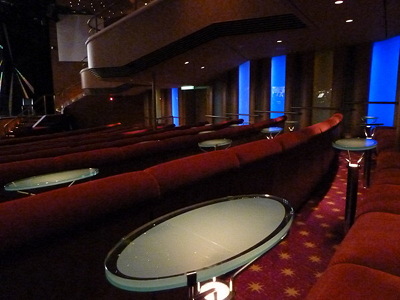 Ahhhh…


The one thing that everyone, whether on stage or in the audience, has had to get used to as an accompaniment to all this great music, is the constant, gentle [usually] swaying of the boat. The trip has been very calm, but this is a big ocean with some swells that you feel more than actually see. The intrepid soloists anchor their feet to the floor with a wider than normal stance to steady themselves, and Larry Rachleff does his best to not look at the curtains hanging behind the orchestra that occasionally move back and forth at, unhelpfully, a different tempo than the band. All I can say is that performing at Carnegie will be dull after this.
Then, shortly after the sunsink above, I emceed a lovely woodwind quintet concert held, like the concert of my string quintet the evening before, in a 300 seat nightclub. The audience sat in comfortable club chairs at small tables, and I got a kick out of the multi-colored LED lights flashing ever-so-gently over the performers' heads. While I find the 20th century Barber and Ligeti quintets really compelling, a little of the 18th century Reicha goes a long way for me, and by the third of the four movements I was glad to have the disco lights dancing away to the bouncy music.
After all this music and comfort, it was on to join my entertaining table mates (some Symphonic Voyages music people and others our music patrons) at the second seating of dinner, and after an especially good meal and set of conversations, six of us ambled upstairs to a small lounge for a private bourbon tasting. The presentation of a flight of five little snifters of this quintessentially American spirit was given by Olga, a gorgeous Russian woman with an accent so thick it could cut through the heart of the steeliest KGB agent. Yet she turned out to be incredibly knowledgeable about bourbon. Unlike me, Olga turns her nose up at her native WODka.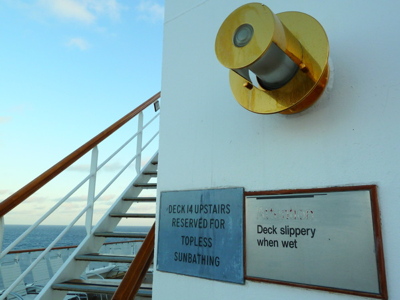 There are so many levels of meaning in this photo.


Inspired by all that really excellent bourbon and further hilarity (which was also inspired by all that bourbon), our happy herd of six musical mariners decided to hit the casino. While it's usually a good rule of thumb to never enter a casino after a private bourbon tasting, and especially after a private bourbon tasting which followed a wine-infused dinner, we ignored that rule. And while everyone knows that the worst odds in the house are at the roulette table, I ignored that tidbit of wisdom, too.
But the Patron Saint of Ignorant Composers-in-Flotation was smiling on me, and I actually tripled my money within the hour. Whoo hoo!
Now, had I put down some big bucks, this would be a great story. But the sad, timid truth is that I only gambled twenty bucks. So I enjoyed the glee of creating neat piles of bright yellow $1 chips that smiled in front of me, and once I completed a row of six stacks of ten, I just stopped. And cashed in.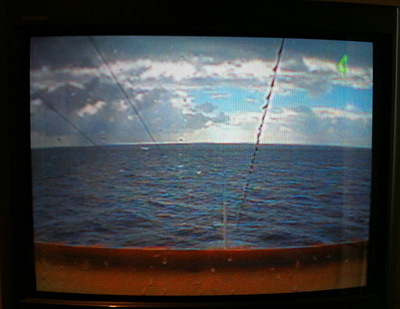 My deck is dead center, overlooking the stern, as you saw in the video below. But thanks to the magic of TV, I can also see the bow!


As I type this I'm 1571 miles away from Baltimore, and many more than that from my usual daily routine three thousand miles from there. We've gotten to 22 degrees latitude, not too far from the Dominican Republic, and we arrive at St. Thomas tomorrow morning. Snorkeling awaits! As does a recital Cho-Liang (Jimmy) Lin and accompanist Jeewon Lee will give this afternoon, and a single malt tasting this evening. If I'm not careful, I'm gonna give "composer in flotation" a new meaning! Watch this space for further developments and more reports from the happy high C's and F-sharps!