December 31, 2016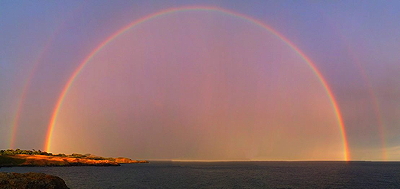 …about the music
Making a point.
I'm hardly the first person to swoon over Dave Grusin's deeply touching, melancholic theme and score to the multi-award-winning 1981 movie, "On Golden Pond." Click to listen to its simple perfection.
Here on Golden Point, Grusin's music resonates as beautifully as if it had been composed for this very San Juan Island spot. Without question, in the past nearly-six years in which I've lived and worked abutting historic American Camp (fortunately, it's never butted me back), many of my own pieces have been influenced by the stunning water-and-wildlife views from my writing desk. The long wooden table is pressed up against the huge [leaky] windows, and I keep my snorkel gear handy when a windstorm hits (a concept you can fathom thanks to islander Mark Hetrick standing on the opposite bluff at just the most dramatic moment):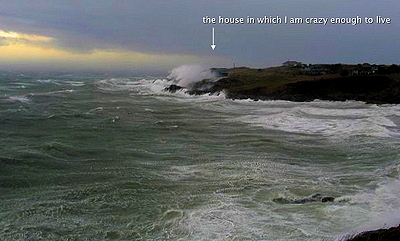 In my musical world, that film's bucolic loons have occasionally been replaced by Humpback whale songs, and the expansive Salish Sea takes the place of Golden Pond.
The house in which I reside and work [and in which I bang my head against the wall when work is not going as quickly as I think it should] has an extraordinary purchase on the rough edge of this floating island rock. Turning my desk chair to the east I see Golden Point. Beyond that are Lopez and Whidbey Islands, and the astonishing geologic backdrop (aka, all those pointy snow-capped peaks), is the Cascade mountain range: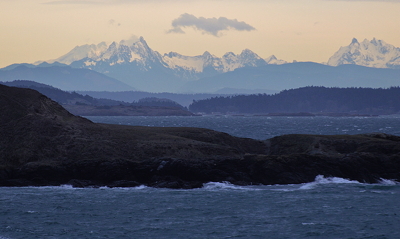 There's much more to this panorama. While attempting to come up with musical themes that hold my attention– not to mention that of a paying audience– I gaze straight out to the south to famed Mount Rainier. Then, turning my skull to the right, my eyes and muses are met by the towering Olympics. The glow of B.C.'s Victoria illuminates the sky to the west (as if to taunt me and say, beyond here lie the best notes).
The expanse of a 300 degree view far surpasses the show-and-tell ability of any meager blog. In future posts, I'll share these southern and western vistas. But for now, I'm going to highlight some of the many faces and moods of Golden Point.
Why? Because I've been as in love with this ever-changing visual parade as any vista I've ever been lucky enough to set my eyes upon, and I WANT TO BRING YOU HERE.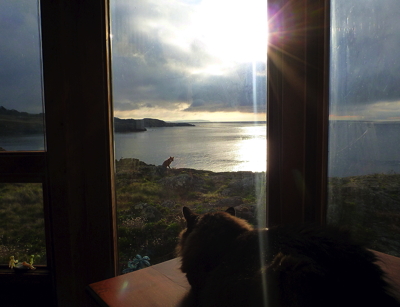 As the sun appears over Golden Point, it's welcomed by a kitty on one side of the glass resting on my desk, and a foxy on the other. And, by me, behind the lens!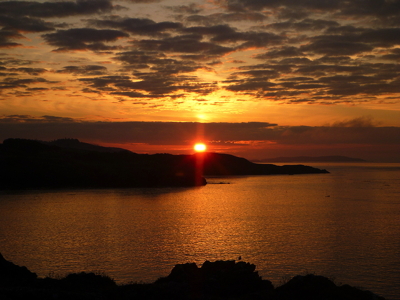 So, you ask: why is that peninsula called Golden Point?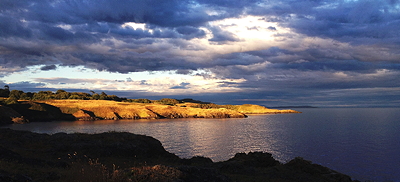 This, above, is why.
Backlit by sunrises and enflamed by sunsets, there's no better moniker.
Golden, indeed.
Guess what? Until a couple of years ago, this geographic coordinate had no official name at all! In 2015 my intrepid friend and neighbor Judy Chovan set out to rectify that, and applied to the Washington State Board on Geographic Names (who knew?!), pleading the case that this magical location deserves a marking on every map. The U.S. National Park Service graciously agreed, and the name we neighbors collectively selected, Golden Point, perfectly suits an outcropping that compels us to grab our cameras daily, attempting the impossible: to convey the majesty of the constantly changing light, weather, and wildlife.
Sunrises,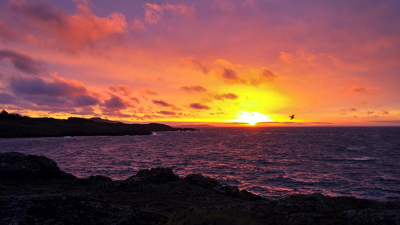 Moonrises,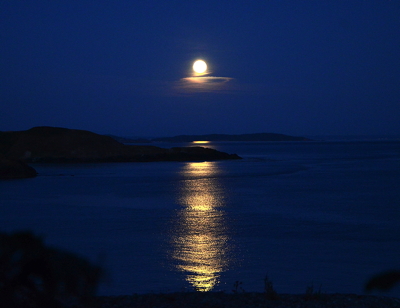 And every rainbow in between,
make the heart jump.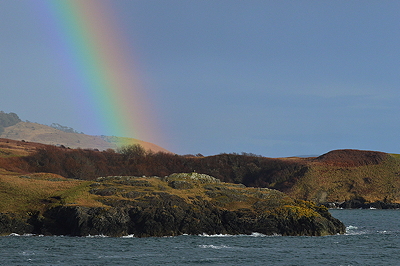 Through storms,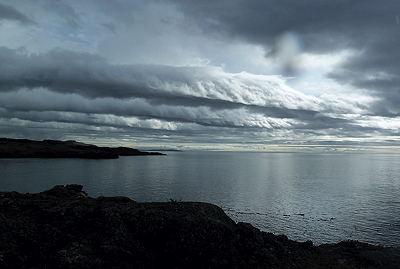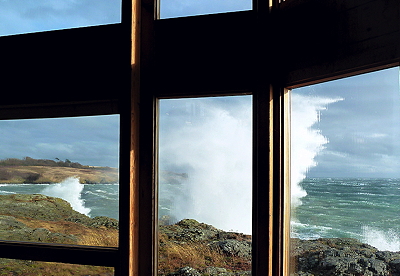 And during calm;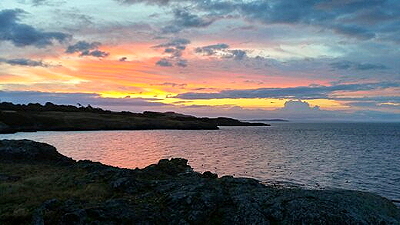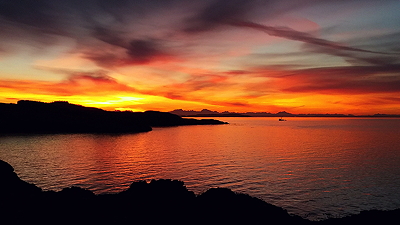 Through weather,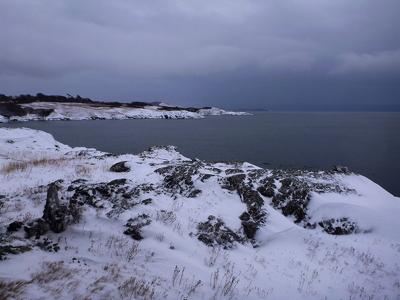 And through the sturm und drang of an endless struggle between the dark and the light,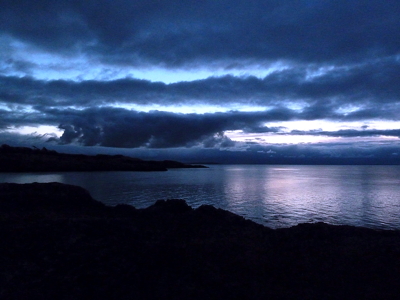 The Point endures all.
And, so do we.
The deer,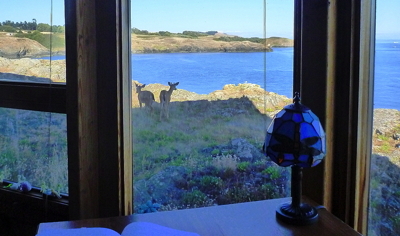 The foxes,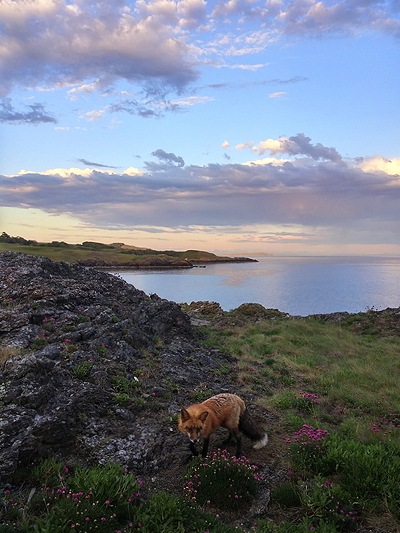 The gulls,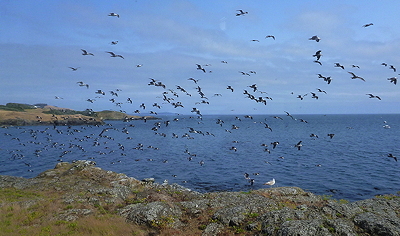 The killer whales,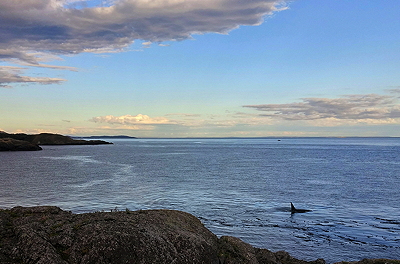 and the harmless composer,
(often supervised by an equally harmless sleeping fox),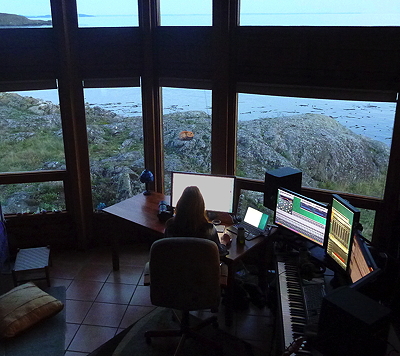 are connected to each other by something magical from above.
And, well, we all just figure it out.
I've noted here before that if you'd like to get more regular glimpses into this magic island world, my Facebook page, my website, and— particularly relevant here— the dedicated Facebook page for San Juan Island's Golden Point, are all yours to explore with me!
Here's to 2017.
May we each raise our voices,
expose our hearts,
make our points, (golden or otherwise),
and just figure it the hell out.