Saturday, February 4th, 2006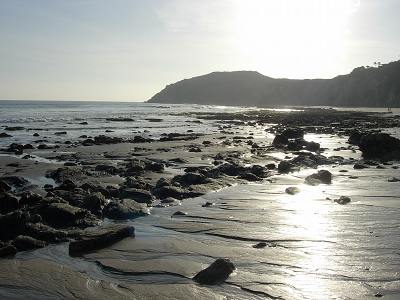 Click on the blue music icon above to hear some of "Intermezzo," to accompany my photo of Point Dume looking northwest up the coastline at low tide.
I post this as a reminder to myself of home. I've been somewhat inland these past three days, having a wonderful time as composer and moderator at the New Music Festival at Santa Clara University. My daily relay has been from the campus to the hotel and back again; a distance of one block, with the sole local liquid offering found not in the ocean, but in a Starbucks paper cup. My mind and heart are nurtured here, surrounded by gleaming students and exceptional colleagues. But I look forward to Sunday's wiggly drive back down the Big Sur coastline. I will stand on another part of the edge of the continent, snap some photos from favorite spots, and show you more of of what I love here in California. Stay tuned.