30-second overview
Composer Alex Shapiro aligns note after note with the hope that at least a few of them will actually sound good next to each other. Her persistence at this activity, as well as non-fiction music writing, arts advocacy, public speaking, wildlife photography, and the shameless instigation of insufferable puns on Facebook, has led to a happy life. Ever-boastful of her terminal degree of a high school diploma (an impressive feat having failed 8th grade algebra), Alex lives in the middle of nowhere on a small rock between the coasts of Washington State and British Columbia, and draws from a broad musical palette that giddily ignores genre.


Her acoustic and electroacoustic works are published by her company Activist Music LLC, have won almost no awards, are performed and broadcast daily, have rarely been reviewed, and can be found on over thirty commercial releases from record labels around the world. No musician or audience member has yet to contact Alex to request their money back. Emphasis on yet.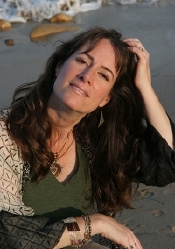 Photo: Paul Chepikian

In addition to lavish customer refund policies, Ms. Shapiro is noted for her seamless melding of live and recorded sounds, and for her innovative uses of multimedia in performance and music education. A widely published advocate on topics ranging from technology, copyright, diversity, and the music business, and a likable person from whom you can learn details about python breeding, Alex is the Symphonic and Concert writer member of the Board of Directors of ASCAP, and serves on the Board of Directors of the ASCAP Foundation, The Aaron Copland Fund for Music, and the Music Publishers Association of the United States, representing her company Activist Music LLC. Alex's music as well as her other, sometimes unusual pursuits, can be experienced throughout this slightly-overwhelming-but-at-least-it's-well-organized website.


This pretty much sums things up. You can continue reading Alex's story, or click the arrow to cut to the chase.

Looking for a short program bio,
or a press kit?


please click here
Got 36 minutes? Get comfortable, settle in with a beverage, and click above to watch the most personal video to date from Alex, thanks to an invitation from Composers Now to join its IMPACT series.



Filled with nature and wildlife, puns and pith, and a remarkably broad selection of Alex's music from solo piano to huge electroacoustic ensembles, this unusual multimedia essay premiered August 2, 2022 and offers a striking, holistic view into Alex's world.




The Start
Born in New York City in 1962 and raised in Manhattan, Alex began composing as a much shorter person at age nine. At fifteen, she was encouraged by Leo Edwards in her first private composition lessons during a summer program in 1977 at Mannes College of Music, at which she also had her initial experiences building a modular synthesizer and writing remarkably dreadful electronic music.


Alex continued to explore acoustic and synthesized pieces the following two summers of '78 and '79 with teachers Michael Czajkowski and George Tsontakis, as the then youngest and sometimes most poorly behaved composer at the Aspen Music Festival and School. Subsequently, Alex was educated as a composition major at The Juilliard School's Pre-College division from which she graduated in 1980, and at Manhattan School of Music from 1980-1983, where she pursued electronic music with Elias Tanenbaum, was a composition student of Ursula Mamlok and John Corigliano, and from which she did not graduate because after completing three years of study with the conservatory equivalent of "straight As"--and with her teachers' blessings--she moved to Los Angeles when hired by a film producer there to score a low (actually, microscopic) budget documentary.

An accomplished pianist with a desire only to compose rather than to pass out from crippling stage fright as a performer, Ms. Shapiro studied for nearly a decade with New York recitalist Marshall Kreisler, and until a moment of supreme klutziness in 2016 for which two of her fingers paid the price, she was an active guitarist as well. Alex also plays very bad flute, an instrument sometimes found in the woodwind section wedged between the alto flute and the bass flute.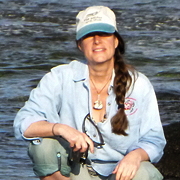 Geography, physical and musical
Shapiro moved to L.A.'s San Fernando Valley in 1983. Ten years later, lured by the intoxicating combination of salt air and wildfire smoke, she settled in Malibu. Alex accessorized her music writing life with reptiles, deep-sky astronomy, volunteer civil liberties activism, sailing, and a herd of plastic dinosaurs which resided above her kitchen cabinets and kept her company, glaring down as her cooking ineptitude routinely set off the smoke alarm. Alex composed movie and television scores for the first fifteen years of her career, until in 1996, the joy of scoring a low-budget feature film with a small orchestra reawakened her love of composing chamber music.


By the late 1990s, Alex shifted her focus entirely to the concert world, and devised inventive ways to use the still-new internet to let people know about this still-new composer. She knew virtually no one in the concert music field, but that did not deter her. Bolstered by her understanding of the music business from having worked in Hollywood and observing the irony of how valuable music copyrights can be when owned by entities other than the composer, plus her experience as a recording engineer and computer/software geek, as well as her volunteer involvement with music advocacy organizations, Alex's career thrived. And yes, if you happen to be an up-and-coming composer reading this, that last run-on sentence is a great recipe to consider for your own success.
In 2007, established both in person and in pixels, Alex and her judgemental plastic dinos traded the traffic and mudslides of southern California for a considerably less dangerous life on Washington State's remote, bridge-less San Juan Island, lapping at the edge of the Canadian border. The last five of the fifteen years Alex lived in Malibu, she split her time between her doublewide mobile home on the beach and her 32' sailboat in the Santa Barbara harbor, thus making her the queen of wheel estate and keel estate and enabling her to live economically right on the kelpy ocean she loved.


The move to the uppermost Pacific Northwest was a natural continuation and ironically, due to the potent combination of internal happiness and a decent internet connection, that year marked a significant expansion of Alex's career. She became more deeply involved volunteering with national arts advocacy organizations, and out of the blue she received a commission for a concert wind band piece that opened a big door to a major part of the music world of which Alex had been largely unaware. Alex's high school in New York City didn't have a band. She had never before seen a euphonium. And now she even knows which end points up.


When she's not composing, Alex procrastinates on her next piece by pointing her camera at the surrounding wildlife, resulting in sometimes-even-award-winning images, including one of a myopic Bald Eagle about to collide with her, featured in The Spirit of Flight 2013 exhibit at Seattle's Museum of Flight (a much smaller version of which dangles at the top of this web page).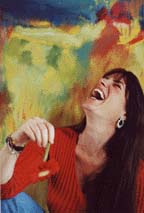 Shapiro's audio and photos fill the popular blog she authored from 2006-2016, Notes from the Kelp, accompanied by her essays on animals, sea life, and human nature, which connect not only Alex's music, but her heart and her [sometimes groan-inducing] sense of humor, to a wide sphere of colleagues and audiences.
All right, now that we're up to current, here comes the pithier stuff.

Plugging in
Programming and launching her first interactive composer website in the late '90s (when many folks were still trying to figure out how to send cute cat photos in an email), Shapiro is viewed as a pioneer in the uses of digital media for the promotion of artists' works, and their context within communities. Through interactive social networks and collaborative live sessions she calls webhearsals, Alex has enjoyed building online relationships with musicians and listeners for over a decade— long before the words COVID and ZOOM became a normal part of every breakfast conversation— by creating an affinity for her music by engaging others in their own interests. The author of many articles on new media, in 2009 Shapiro was invited to Washington, D.C., to testify in a Federal Communications Commission hearing about broadband access and digital rights.


Firmly believing that the only artist one is in competition with is oneself, Alex co-founded the ASCAP Composer Career Workshop touring series, advising fellow music-makers on ways to benefit from their creative output. Shapiro is a familiar guest lecturer at universities around the United States, where she mentors students not only in music composition, but also in business practices. Alex addresses the philosophy behind a career based on the concepts of kindness, graciousness, and a positive sense of self worth-- topics too rarely discussed in schools. Oh, and she leads frank discussions about money and the freedom artists retain when living within their means.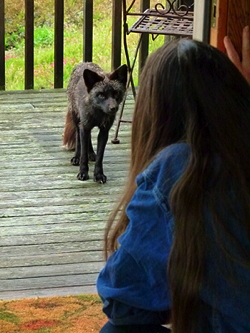 Foxes show up on the doorstep
on San Juan Island.

Showing up
Even more fun than interacting in pixels, is the in-person work Alex gets to do every year (well, up until the world changed in March 2020). She enjoys the role of composer-in-residence at many colleges and new music festivals, and has given lectures, masterclasses, workshops and one-on-one lessons at universities across the United States, including at Yale University, University of Southern California, The Ohio State University, University of Minnesota, Washington State University, University of Missouri-Kansas City, Manhattan School of Music, Capital University, University of Wyoming, Carthage College, Univeristy of Montana, University of Chicago, and the much warmer University of Hawai'i, among a great many, the list of which can be found on her C.V. if you click here


Speaking out
Since the early 2000s, Ms. Shapiro has appeared regularly as a speaker at a wide variety of music events, which have included NARAS' Grammy® in the Schools, the Los Angeles Philharmonic's First Nights series, IAWM's International Congress of Women in Music, the National Performing Arts Convention in Denver, Colorado, three of the Minnesota Orchestra Composer Institutes, and eleven of ASCAP's I Create Music Expos in Hollywood. Between 2000 and 2010 Alex interviewed over 100 composers as the moderator of the Los Angeles Composer Salon series, and of ACF/LA's Composer to Composer series at Walt Disney Concert Hall.
U.S. advocacy
An enthusiastic leader in the new music community, Ms. Shapiro has served as the Symphonic & Concert writer representative on the ASCAP Board of Directors since 2014, and was elected to the Board of Directors of the ASCAP Foundation in 2015. Alex also co-chairs ASCAP's Symphony & Concert Committee, its Marketing Committee, and its International Committee.


In 2016, Shapiro was elected to the Board of Directors of The Aaron Copland Fund for Music, and in March 2022 Alex became Member-Elect to the Board of Directors of the Music Publishers Association of the United States.


Shapiro is the past President of the Board of Directors of the American Composers Forum of Los Angeles, and former Co-chair of the Program Council for New Music USA. Alex has been a board member of U.S. music organizations including The American Music Center, The MacDowell Colony, The College Music Society, NACUSA, and The Society of Composers & Lyricists, of which she was Vice president.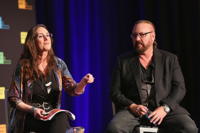 Alex speaking in Los Angeles,
with Desmond Child, 2018.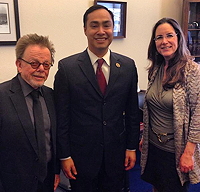 With ASCAP board President
and Chairman Paul Williams
and Representative
Joaquin Castro (D-TX).

In response to the effects of the Coronavirus pandemic on the fields of music performance and education, Ms. Shapiro was the sole composer invited in the spring of 2020 to join eleven collegiate wind band conductors and form the CBDNA COVID-19 Response Committee, which authored a national report containing information, resources, and detailed suggestions for keeping university ensemble programs afloat and thriving.


Seeking to encourage composers to create flexible repertoire to meet the needs associated with unpredictable ensemble personnel, in May 2020 Alex co-founded the Creative Repertoire Initiative with ten colleagues in the wind band world, each of whom composed new works designed for adaptable instrumentation and posted templates of their processes on the CRI website to assist peers. Fulfilling its purpose in serving as a liaison between ensemble directors and composers, within four months of its inception, CRI's Facebook group had garnered over 5,600 members and continues to grow.


In 2022 Alex became a member of the Council for Music Composition of the National Association for Music Educators (NAfME).

International advocacy
In 2017 Alex became ASCAP's elected representative on the Executive Committee of The International Council Of Music Authors (CIAM)— the writers council of CISAC, a global network of authors' societies that represents over four million creators in 121 countries. The Council addresses issues ranging from global copyright and royalty payment improvements, to transfer of value, fair trade music, blockchain potential, gender and racial equity, and much more, in an effort to advance the wellbeing of music creators around the world.


This advocacy work took Alex all over the world for over two years, beginning in June 2017 with her first CIAM ExCo meeting in Lisbon Portugal. In November of that year Alex traveled to Tokyo, Japan for the CIAM Annual Congress, at which she spoke about the future of collective management.

In June 2018 in Warsaw, Poland, Alex addressed the CISAC General Assembly on a panel devoted to the topic of gender inequity issues throughout the music industry. In November 2018 in Mexico City, Alex joined her writer colleagues on the CIAM ExCo at the Annual CIAM Congress. She moderated a panel discussion with music creators from Australia, Europe, Canada, and South America, discussing not only the problems of far-reaching biases, but the solutions.


In January 2019 during the CIAM ExCo meetings in Cabo Verde, Africa, Alex participated in career and copyright workshops on two islands in the African archipelago. Alex returned to Tokyo, Japan in late May 2019 for CIAM meetings and the CISAC General Assembly. While there, she and several CIAM ExCo members gave a workshop hosted by Japan's collective management society JASRAC, for an auditorium filled with Japanese music creators, addressing local and international copyright issues.
Speaking in Mexico City, 2018

Speaking in Warsaw, 2018

Speaking in Tokyo, 2017

Giving a workshop
in Cabo Verde, 2019

Working in Lisbon, 2017

Giving a workshop
in Tokyo, 2019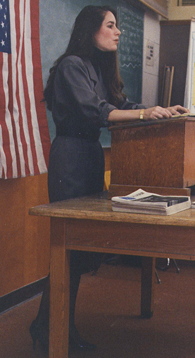 Alex delivering a speech
in 1993 as
ACLU/SC Vice president.
Advocacy beyond the arts
Shapiro's volunteer activism extends beyond the music world to that of civil liberties, and includes three elected terms in the 1990s to the Board of Directors of the ACLU of Southern California. During her film composing days, she served as Vice President of the 30,000-member affiliate, chaired its State and National Legislative Action Committee, and received the ACLU's 1993 Chapter Activist of the Year award.


Alex is currently a Board member of the University of Washington's Friday Harbor Laboratories, the renowned marine science research facility whose mission reflects much of what often inspires Shapiro's music.


Alex was honored with the 2018 Friday Harbor Film Festival Local Hero Award for her activism through music, as an arts advocacy speaker and as a composer who often pairs her works with her wildlife photography to raise environmental awareness.


Recent works
If you've read this far (thank you, let us know where we should send the check) by now you may be wondering whether Alex actually has any time to compose. Well, here's the answer.


Alex's concert music is a diverse collection spanning from chamber groups to large ensembles, and from purely acoustic pieces to works that pair musicians with prerecorded digital audio. Ms. Shapiro's 2019-2022 commissions span from pieces that are very sobering to those that are ridiculously silly. Because, life.


O Death Rock Me Asleep, an electroacoustic work for SATB choir set to Anne Boleyn's text penned while imprisoned in the Tower of London awaiting her beheading, was commissioned by conductor Suzi Digby and her preeminent ensemble The Golden Bridge, and premiered in Los Angeles in September 2019 (you guessed right: this is not one of the silly pieces).


Immediately following this dark work came Off The Edge, an uptempo electroacoustic wind band romp for younger musicians that's based on pop and EDM music, and was premiered by the first of its 35 commissioning ensembles across the U.S. in early 2020.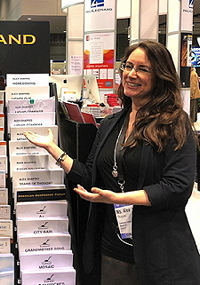 Showing off her...ahem...rack
in 2018 at the Hal Leonard booth
at the Midwest Clinic.


Also premiered in early 2020 was an unusual electroacoustic concert opener for wind band comprised entirely of sound design and texture, with no melody at all: Ascent, premiered by the University of Hawai'i Wind Ensemble conducted by lead commissioner Jeffrey Boeckman at in Honolulu, Hawai'i. This was followed by an ultra-flex and highly melodic electroacoustic piece for either wind ensemble or orchestra titled Passages.


The grief, rage, and uncertainty of the COVID-19 pandemic were put to cathartic use in Alex's studio. In October 2020, Ms. Shapiro delivered an electroacoustic commission for conductor Calvin Hofer and Colorado Mesa University's wind ensemble titled Breathe, before launching into a new four-movement electroacoustic symphony titled Suspended, commissioned by Kappa Kappa Psi, National Band Fraternity, and Tau Beta Sigma, National Band Sorority and premiered in 2021 at the 75th National Intercollegiate Band conference, conducted by Cynthia Johnston Turner. Both works explore the journey of lifting from darkness, into the light.
The four pieces which followed in late 2021 to early 2022 are as different from one each other as those the year before: Count to Ten and Kitchen Sync take highly unusual approaches to teaching students meters and rhythm (yes, 5th graders can play in 9/4!), while Pop Music, commissioned by Lauren Whisnant for Glenbard North High School and Free, commissioned by Kristin Tjornehoj and the University of Wisconsin-River Falls, respectively explore slightly twisted humor (the sound of air slowly releasing from a balloon is hilariously rude), and soaring lyrical themes (squeaking balloons are anything but lyrical).


Recent album
Concurrently while composing many of the pieces above, Ms. Shapiro produced an 80-minute album titled ARCANA that is a collection of her complete solo piano works to date. The project was recorded between 2018 and 2019 by the late pianist Adam Marks at Yamaha Artist Services and The American Academy of Arts and Letters in New York City, and released on Innova Recordings in the fall of 2020.


Alex's catalog includes nearly 200 published works, and her time management skills (and those of her well-behaved muses who she often bribes with dark chocolate and a nice Pinot Noir) are, well... finely tuned.


Digital realities
As music education was forced to transition to digital formats in early 2020, Alex's longtime work with technology led the University of Washington's music department to contact her in mid-March for ideas for continuing their semester solely online. In response, Alex created a web-based curriculum, Putting the E- in E-nsemble, for the school's wind band and orchestra members that not only had the students composing short passages which they played and recorded on their instruments, but then got them collaborating with each other as they composed a "sonic quilt" from their own music. Alex continues to oversee that curriculum, and has engaged with over 30 universities and high schools that have turned their instrumental students into composers, as well.
Writing and talking
Shapiro is the author of a chapter in the 2013 GIA Publications book, Musicianship: Composing in Band and Orchestra, titled Releasing A Student's Inner Composer, and two of her most popular electroacoustic works for wind band, Paper Cut, and Tight Squeeze, are featured in Volume 10 of the field's best known book/CD series, Teaching Music Through Performance in Band, edited by Eugene Migliaro Corporon and released by GIA Publications December 2014. Both pieces were performed at the Midwest Clinic International Band and Orchestra Conference in Chicago in 2011 and 2013, by the VanderCook College of Music Symphonic Band.


In December 2020 GIA Publications released the nearly 600-page book, The Horizon Leans Forward... Stories of Courage, Strength, and Triumph of Underrepresented Communities in the Wind Band Field for which Alex is one of six co-authors, penning a chapter titled Reaching Out and Bringing Women In. With a dedication stating, "For every girl with a spark, and every woman with a flamethrower," Alex begins with a stark spotlight on age-old biases and their solutions, and continues with a significant section devoted to advice for women seeking to advance their music careers, as well as for those wishing to help them do so.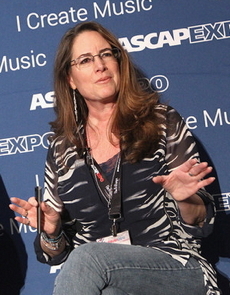 Alex giving a presentation at the 2016
ASCAP EXPO in Hollywood.
Ms. Shapiro was a guest clinician presenting workshops on electroacoustic music and inventive uses of new media at the 2013

Midwest Clinic in Chicago,

and the 2014

Texas Music Educators Association

in San Antonio, and in July 2016 she was the featured guest composer for the

University of British Columbia's Wind Conducting Symposium.

Alex's in-depth articles on the topic were published in the June and September 2014 issues of

WASBE World,

the magazine of the

World Association for Symphonic Bands and Ensembles,

and she regulary gives workshops on the topic using vivid multimedia presentations that bring the concepts to life.



A few years prior to penning her chapter about women and equity in the music world for the book The Horizon Leans Forward...", Alex launched a web page of aggregated links to assist conductors and concert presenters in discovering composers from underrepresented backgrounds. The page, Programming Resources

includes over 100 links and has been shared thousands of times. Alex returned as a guest clinician at Chicago's Midwest Clinic December 2018, joining a panel of composers and conductors discussing ways to address gender and racial inequities in the concert world, and was a clinician for a 2021 Midwest Clinic panel on social emotional learning (SEL).


In October 2019 Alex was a guest clinician at the BCMEA conference in Vancouver, B.C., giving two presentations: one on multimedia music with large ensembles, and another about the power of musicians to use their art to effect change. Alex again presented an online multimedia exploration of the topic of arts and activism for the virtual CBDNA Western/Northwestern Division Conference in the spring of 2020, and was a guest composer speaker at CBDNA's subsequent in-person conference in March 2022.

Of Alex's many online appearances in pixels offering oh-so-flattering Zoom filters, she is a familiar guest on webcasts for Conn-Selmer (for which she is a clinician), NAfME, Association of Concert Bands, Music for All, CBDNA, WASBE, and the Recording Academy.


To be filed under the heading of, "wind her up and watch her speak!", Alex has been a guest on countless webcasts and podcasts, speaking freely on a broad range of topics: Her composition and engineering process; copyright and publishing; equity and acess; activism and messaging through music, technology and its impact past and future, and yes, even python breeding. Any and all of this can be heard by visiting this busy website's Essays link

and its subsequent Webcasts, Podcasts, and Articles link

where you will find many hours of chattering to keep you company as you slog through mundane tasks. Really, isn't this what the media is best for?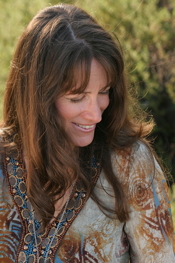 Photo: Paul Chepikian

Honors
Alex doesn't have any Really Big Fancy awards or recognitions to list, but she's always grateful for any lovely comments and gestures that come her way. For instance, she was deemed "one of the most noteworthy composers for the 21st century wind band" by Carthage College and Dr. James Ripley upon the May 2014 premiere of her electroacoustic tone poem for symphonic band, Liquid Compass, composed in honor of that ensemble's 140th anniversary. Thank you!


Ms. Shapiro has been the recipient of a few national honors and recognitions including those from the American Music Center, ASCAP, the American Composers Forum, and Meet the Composer, and has been awarded artist fellowships from The California Arts Council and The MacDowell Colony, serving on its Board of Directors a few years later.

Despite only proudly sporting a high school diploma (ok, and another obtained the same year, for graduating as a composition major from the Juilliard Pre-College Division in a ceremony memorable for when she tripped on the stairs to the stage and her face became as red as her dress), Alex has had the pleasure of being deeply engaged with academia over the past 25 years, as a composer-in residence and guest lecturer at hundreds of colleges and universities.

She's even been able to get a taste of Greek life: The international music fraternity

Mu Phi Epsilon

presented Alex its highest distinction, the Award of Merit, during its 2011 National Convention at the Eastman School of Music in Rochester, noting her innovative use of new technologies in composing and her efforts helping colleagues advance their own careers. A decade later, Alex was initiated as an

Honorary Brother of Kappa Kappa Psi

in recognition for her contributions during the COVID-19 pandemic and beyond to support music education programs, through the creative curriculum she developed through which instrumentalists learn to compose, collaborate, and produce. In 2021 Ms. Shapiro was also made an

Honorary Brother of Tau Beta Sigma,

which presented Alex with its Outstanding Service to Music Award at the National Intercollegiate Band Conference in Grand Rapids, MI.

For an electronic press kit,
including a program bio, photo, full bio/C.V.
and catalog of works, click here

For the latest news on
what Alex is doing and where
she or her music is doing it,
visit the home page

If you've suddenly landed here,
it means you've cut to the chase.
Welcome.

You certainly don't have to read all of this. Or even skim it. But what follows is a pretty thorough overview of how Alex has spent her time.

A disclaimer: the majority of the wonderful people pictured in small photos down the page are among Alex's closest friends. In real life. The kind she could call at 1 in the morning if she were in a pickle (fortunately many of them, like Alex, are awake working at 1 a.m. and wouldn't be TOO annoyed). It's not a professional vanity display, it's a display of how much Alex values the people in her life: an always expanding circle!

2020 and beyond...

Alex did significantly more residencies, guest lectures, and interviews in just the nine months between March and December 2020, than she had done in the PAST 20 YEARS.

It's a new world, and you can watch many of the recent webcasts, webinars, and talks Alex has given on topics ranging from technology, diversity and inclusion, music education, adaptable music, and Alex's own approach to composition, by clicking HERE.
Alex speaks at many events and motivates people in and outside of the music world. Whether discussing the philosophy of self worth or the importance of a sense of humor, Alex is an engaging presenter who's been referred to by more than a few people as "the female Anthony Robbins of contemporary music, just a lot shorter."



Listen to Alex's thoughts on the importance of artists in America, from an interview she gave to Lavinia Wright at the 2010 ASCAP EXPO in Hollywood, CA.:
To see a video and obtain booking information,
visit Speaking


Want to get a good sense of Alex? Here's a 60 second excerpt from an interview she gave to Lavinia Wright at the 2010 ASCAP EXPO in Hollywood, CA. Alex is seen here discussing the importance of artists' sense of self worth, and of having a supportive attitude toward one's community.



Just like the video above excerpted from the same interview, it's fairly old, but Alex has consistently been saying the same thing alllll these years: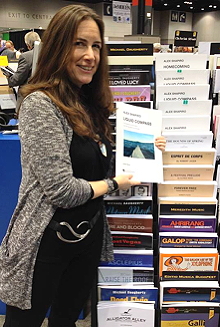 At the Hal Leonard booth
at the Midwest Clinic, 2015.

The most important information in a composer's bio is what her or his music SOUNDS like! Alex calls herself a pan-genre composer, with a penchant for organically spanning across idioms, often within a single piece. Click around the mp3s you'll find in the Dial-a-Mood link below, for fun.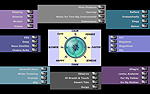 Many albums are currently available which feature Alex Shapiro's works, and there are new recordings coming out in the next year from a variety of artists.




Alex's own CD of several of her favorite chamber works, Notes From the Kelp, was released October 2007 on Innova Recordings.




In 2020 she produced ARCANA, a disc of her solo piano works, recorded by Adam Marks and also on the Innova Recordings label.



Click on any album for more information:
Below: Music for Low Flutes:
Below

Garrison Piano Competition:
Scherzo



Alex Shapiro/Adam Marks:
Arcana


To listen to excerpts from these CDs,
visit Recordings


| | |
| --- | --- |
| Alex's career is multi-dimensional, encompassing composing, speaking, and writing, as well as a great deal of community involvement. Oh, and a lot of nature photography that can be seen throughout this website, and on her blog, Notes from the Kelp. Keep scrolling through this page to see what keeps her busy. | |
Why just read a bio about someone
when you can hear what they have to say?


Alex has been a guest on countless
podcasts and webcasts. Below are just a few.

Alex is one of six co-authors of the new book, The Horizon Leans Forward...Stories of Courage, Strength, and Triumph of Underrepresented Communities in the Wind Band Field, released by GIA Publications December 2020.


Edited by conductor Erik Kar Jun Leung (Oregon State University), the book includes Ms. Shapiro's chapter, Reaching Out and Bringing Women In, along with those from composer Jodie Blackshaw and conductors Alfred L. Watkins, Robert Taylor (University of British Columbia), Courtney Snyder (University of Michigan), and Erik Leung, each of whom address perspectives of women, BIPOC, and LGBTQIA2S+ composers and conductors of the past and present.


Additionally, the publication includes a notable annotated bibliography of works by underrepresented composers.


To read more about the book and to order a copy, click HERE:



For many more articles and writings,
visit Essays


| | |
| --- | --- |
| In response to the need for 21st century composers to embrace an entrepreneurial approach to their careers, in 2009 Alex joined forces with composers Stephen Paulus and Jennifer Higdon, and attorney and EAM/Schott Music president Jim Kendrick, to co-found a U.S. touring series of music business seminars titled, The ASCAP Composer Career Workshops. | |
Alex giving a presentation at the 2016
ASCAP EXPO in Hollywood.

With the full funding support of ASCAP, varying combinations of the group with Shapiro as the mainstay, conduct four-hour workshops about publishing, copyright, web presence, recording, and many other skills, for composers at all stages of their careers.

Committed to sharing knowledge about music and about the business of working as a musician, Alex is regularly invited to be a guest lecturer to composition classes at colleges, universities and music conservatories across the U.S., many of which have produced concerts devoted to her music. Some of the many institutions at which she has spoken include:


An engaging public speaker with an unusually broad range of experience, Alex has moderated panels for countless seminars. She's a familiar face to audiences at The Society of Composers & Lyricists, and The American Composers Forum, for which she has interviewed over 100 composers including Steven Stucky, Randy Newman, Mort Subotnick, Anne LeBaron, Mark Watters, Gavin Bryars, Bruce Broughton, Vinny Golia, David Newman, Joan Huang, Stephen Paulus, John Steinmetz, Bear McCreary, Morten Lauridsen, and Bill Kraft for the Los Angeles Composers Salon series.



Additionally, Alex also conducted in-depth American Composer Forum Composer to Composer interviews at Walt Disney Concert Hall in Los Angeles with guests as diverse as Steve Reich (2004), Don Davis (2005), Billy Childs (2005), and Christopher Rouse (2007) prior to the premieres of their major works with the Los Angeles Philharmonic and Master Chorale.



Alex was the Keynote Speaker at the October 2006 Society of Composers, Inc. National Student Conference, and represented musicians on a panel she also moderated in June 2008 at the enormous National Performing Arts Convention in Denver, CO, at the Colorado Convention Center.

Alex on a 2008 ASCAP EXPO panel
with John Mackey, Doug Wood, upper row,
and Frank J. Oteri and Martha Mooke, lower.

Alex gave a 2011 ASCAP EXPO
Composer Career Workshop with ASCAP boardmembers Jim Kendrick and
Stephen Paulus, standing with ASCAP's
Concert Music Dept. Asst. VP Cia Toscanini.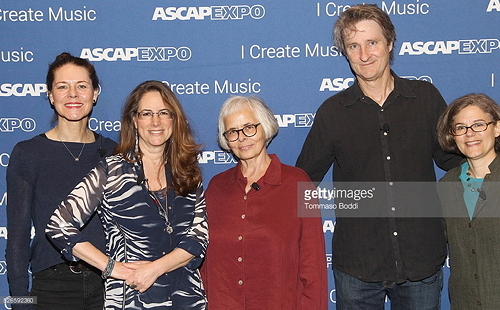 Alex gave a lively presentation at the 2016 ASCAP
"I Create Music" EXPO in Hollywood,
on a panel about creative uses of technology
titled, "Seeing Music: Multimedia Concerts for a Visual World."
Pictured L-R: Composer Veronika Krausas, Alex,
visualists Candace Reckinger and Michael Patterson,
and ASCAP VP of Concert Music, Cia Toscanini.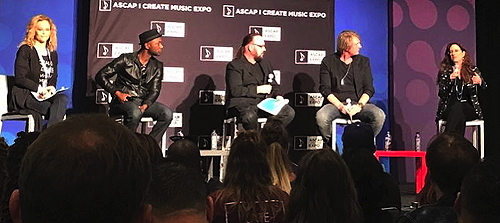 Alex speaking at the 2017 ASCAP EXPO in Hollywood,
on a panel tited, "Getting Credit Where Credit is Due."
From L-R: attorney and moderator Dina LaPolt,
songwriter and performer Aloe Blacc,
songwriter and ASCAP Board member Desmond Child,
Auddly founder Niclas Molinder, and Alex.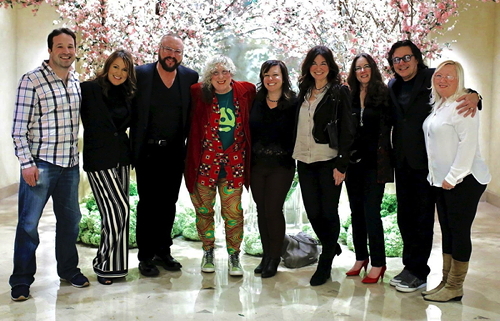 L-R: February 2018 in Beverly Hills, CA:
Adam Parness, Pam Sheyne,
Desmond Child, Allee Willis, Michelle Lewis,
Shelley Peiken, Alex Shapiro,
Rudy Perez, and Betsy Perez.

Among the panel discussions Alex has led for the SCL are The Virtuoso Soloist in Film Music, presented on the scoring stage of 20th Century Fox Studios in 2000 and featuring violinist Joshua Bell (The Red Violin), pianist Ralph Grierson (E.T.), and bagpiper Eric Rigler (Titanic), and the 2004 seminar, Launching Your Film Scoring Career. On the topic of new technologies, Alex moderated a session for the 2004 Music Business Chops seminar in Los Angeles, with industry leaders including CD Baby founder Derek Sivers, Tony van Veen of Disc Makers, and Jim Griffin of Cherry Lane Digital.




In 2004 Alex appeared on stage at Walt Disney Concert Hall with conductor Esa-Pekka Salonen and the Los Angeles Philharmonic to co-host the sold-out premiere of Steven Stucky's Pulitzer prize-winning work, Second Concerto for Orchestra, for the L.A. Phil's First Nights series. In January 2006 and again in January 2009, Ms. Shapiro was a panel speaker for the Chamber Music America Conference in New York City. In February 2006 she was the moderator for an evening of composer Chen Yi's works at the New Music Festival at Santa Clara University.

Alex is an especially familiar speaker on the uses of digital media for the promotion of artists' careers. In 2009 Alex was invited to testify to the FCC in Washington, D.C. in a public hearing on broadband access and privacy issues.



She has been a speaker at most of the 15 ASCAP EXPOs in Hollywood, the 2009, 2010 and 2012 Minnesota Orchestra Composer Institutes, the American Composer Forum's Making Music Work series at McNally-Smith College, NETMCDO (Network of Music Career Development Officers), two of Chamber Music America's national conferences in New York City, the National Performing Arts Convention in Denver, and around the U.S. at the ASCAP Composer Career Workshops, of which she is a co-founder.



Among her recent appearances is the October 2021 ASCAP Labs/NYC Media Lab Summit, featuring a look into the latest augmented realities that will positively impact artists' lives.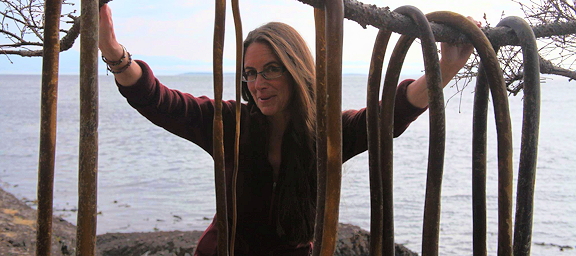 Alex Shapiro's concert scores are published by her company Activist Music LLC and are directly available through the Purchase page of this website. Much of the Activist Music catalog is available through J.W. Pepper and Son, Inc. and Theodore Front Musical Literature, Inc., and many works in her catalog are also distributed by Harrassowitz, and Hickey's Music Online Ms. Shapiro is pleased to welcome the Hal Leonard Corporation as the exclusive distributor of her symphonic wind band works, as well as other larger ensemble pieces in the Activist Music LLC catalog.
In December 2021, Activist Music LLC was elected as a member of the Music Publishers Association of the United States, and in March 2022, Alex proudly became member-elect of the MPA Board of Directors.
Ms. Shapiro's woodwind music can be found at Just for Winds, and her music for double reeds is also sold through TrevCo Varner Music. Shapiro's flute music is also available through Flute World, and Carolyn Nussbaum Music Company, and her brass music can also be ordered from Just for Brass, and BVD Press. Ms. Shapiro's percussion music can be found at Steve Weiss Music.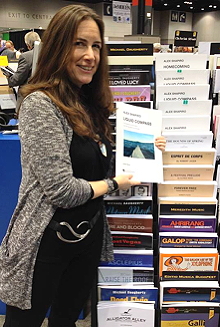 | | |
| --- | --- |
| | The name Activist Music originates from Ms. Shapiro's belief that all people must be encouraged to raise their voices, articulate their principles and do what they can to affect change around them, whether in politics, within their own neighborhoods, or through the art which they share with others. |
To download a .pdf of the complete
Activist Music catalog,
please click HERE
To order Alex Shapiro's scores and albums,
visit Purchase


Alex with composer

Joan Huang during an ACF/LA

Composer's Salon.


Alex (left), with 2007 Composer Salon participants (clockwise from top): Gernot Wolfgang, Giovanna Imbesi, Michael Roth, Randy Newman,
Bei Bei He, Kubi Uner (seated)
and Drew Schnurr.

In February 2014, Alex was elected by ASCAP's Board of Directors to fill the Symphonic & Concert seat previously held for over twenty years by the late Stephen Paulus. From 2010-2014, Alex served as the elected national concert music composer representative on the ASCAP Board of Review.



Alex's involvement with ASCAP began in 1997, when she co-chaired a committee to develop composers' contract standards for negotiations for the use of original music over the internet. Alex is currently co-chair of ASCAP's Symphonic & Concert Committee. As of 2021, Alex also serves as the Co-Chair of ASCAP's International Committee and its Marketing Committee.



Alex was elected to the Board of Directors of the ASCAP Foundation in 2015, and in December 2021 was elected as an officer and is one of the five members of the Foundation's Executive Committee.



In November 2017 Alex became ASCAP's elected representative on the Executive Committee of The International Council Of Music Authors (CIAM)— the writers council of CISAC, a global network of authors' societies that represents four million creators in 121 countries.

Ms. Shapiro was elected to the Board of Directors of The Aaron Copland Fund for Music in November 2016.



Ms. Shapiro sat on the Board of Directors of the American Music Center when it merged in 2011 with Meet the Composer and became New Music USA, for which she served as Chairperson of its Media Council until 2015.



From 2010-2013 Alex served on the Board of Directors of the oldest artist residency in the United States, The MacDowell Colony.



She is the past President of the Board of Directors of the American Composers Forum of Los Angeles, and past Chairperson of the ACF/LA Advisory Council. Between 2000 and 2010 Alex was the Moderator of ACF's popular Composer's Salon series, as well as its Composer to Composer series held at Walt Disney Concert Hall.


Alex with musical theater artist Steve Schalchlin during an ACF/LA Composer's Salon.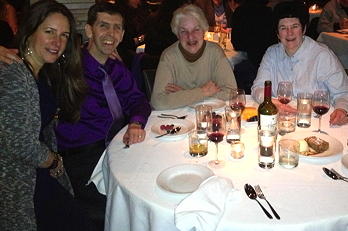 Alex in NYC with, L-R: New Music USA's Ed Harsh,
ASCAP's Fran Richard, and BMI's Barbara Petersen.
In 1994 Ms. Shapiro joined the Board of Directors of The Society of Composers & Lyricists, the professional association of film music artists, and served three terms from 1994-2000, including two years as the organization's Vice president.



Alex extended her efforts with The Society of Composers & Lyricists in her role as the Chairperson of the 1996-1999 Film & TV Music Conferences, co-presented in Los Angeles at The Directors Guild of America by the SCL and The Hollywood Reporter.
| | |
| --- | --- |
| Alex became one of 12 writer and 12 publisher members of ASCAP's board of directors in 2014. Since most of the 900,000 members haven't met their representatives, ASCAP launched a series of "meet the board" videos in 2017. Here's Alex's: | |

Composer/pianist Billy Childs, Alex, and composers
and Salon producers Kubi Uner and Giovanna Imbesi
at a 2005 Composers Salon Alex moderated
at Tuttomedia Studios in Venice, CA.


Alex with composers Larry Karush and Terry Riley
by her home in Malibu, June 2006,
where they performed a house concert.

Composer Randy Newman and Alex during Newman's
presentationat the July 2007 Composers Salon
which Alex moderated in Venice, CA.

Alex and composer Paul Rudy in March 2014,
flanking the poster for their joint electro-visual concert
during Alex's residency at UMKC School of Music.

| | |
| --- | --- |
| Community Involvement and Activism | |
Each spring, members of the Board of Directors of ASCAP and creators who are strong copyright advocates visit Senators, members of Congress, and their aides, to keep the message of fair compensation for music creators front and center. In 2015 and 2016, the Songwriter Equity Act was at the core of ASCAP's discussions on Capitol Hill.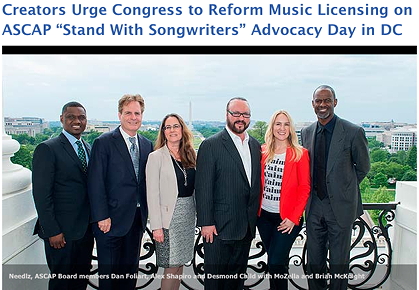 May 2016: Standing on the Speaker's Balcony
in the Capitol Building. L-R:
Needlz, ASCAP writer Board members Dan Foliart,
Alex and Desmond Child, MoZella, and Brian McKnight.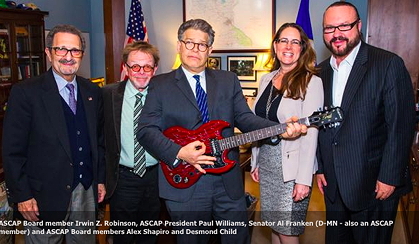 May 2016: Meeting with Senator Al Franken (D-MN).
L-R: ASCAP publisher Board member Irwin Z. Robinson,
ASCAP writer and Board President Paul Williams, Alex,
and ASCAP writer Board member Desmond Child.
May 2015: Alex with Janice Hahn (D-CA) and Joaquin Castro (D-TX), with ASCAP board member and composer Richard Bellis and ASCAP board President and Chairman Paul Williams.
In 2009, Shapiro joined fellow ASCAP members on Capitol Hill to meet with numerous senators and congresspeople in an effort to ensure audio visual download rights.

Alex (right) lobbying in Washington, D.C.
in May, 2009 with ASCAP board members and staff.
Above, speaking to Senator Arlen Specter (R/D-PA),
and to Representative Steve Cohen (D-TN) in their offices.
Ms. Shapiro was the sole artist testifying on an FCC panel hearing in 2009 about broadband access. Her career has become representative of the way the internet and digital technology have given anyone with a computer the ability to create a global presence. Alex's speech starts just after the 44 minute mark in the linked video.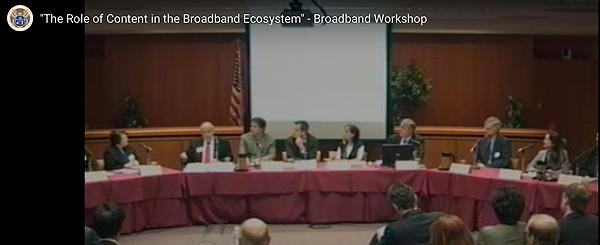 Also on the panel were:

Dan Glickman, chairman and CEO of Motion Picture Association of America;

Frederick Huntsberry, COO of Paramount Pictures;

Michael Bracy, policy director of Future of Music Coalition;

Chuck Slocum, assistant executive director of the Writers Guild of America;

Mike Carroll, Professor of Law, American University;

Gigi Sohn, attorney and founder of Public Knowledge;

Patrick Ross, executive director of Copyright Alliance;

and Kathy Garmezy, assistant executive director of the Directors Guild of America.



The following week, FCC Chairman Julius Genachowski quoted Alex's testimony in his keynote address at the Future of Music Coalition Policy Summit in D.C.



Excerpt from the prepared remarks of Chairman Julius Genachowski
Federal Communications Commission
Future of Music Coalition Policy Summit
Washington, D.C., October 5, 2009




"Now, why is the adoption of fair rules of the road -- Net Neutrality rules -- so important? Well, the artists, songwriters, and independent producers in the music industry know better than most. For example, at a recent public workshop held at the FCC we heard Alex Shapiro who discussed how the Internet allows her to manage her career even from rural Washington State.




Let me read from her testimony: "My name is Alex Shapiro, and I'm a composer. My use of the Internet has significantly shaped the evolution of my career, and has allowed me to reach audiences around the world, obtain commissions, and sell recordings and scores -- all from a fairly isolated outpost on a bridge-less island in Washington State."




Her point is an essential one. You don't have to be Bruce Springsteen to reach your audience on the Internet. You can be an independent artist on an island -- whether literal or musical -- and reach everyone who has an Internet connection."



| | |
| --- | --- |
| Alex's activism is on the local level, as well: in February 2012 she appeared before the joint meeting of the San Juan County Council and the Planning Commission, to speak on behalf of the vital need for high speed broadband access for all of the San Juan Islands. | |
Alex delivering a speech
in 1993 as
ACLU/SC Vice president.

Along with her involvement in the music industry, Ms. Shapiro has distinguished herself in an additional area of passionate pursuit— civil liberties. She served on the Board of Directors of the American Civil Liberties Union of Southern California from 1990 to 1996; as Vice President of the nation's largest, 30,000 member affiliate, Ms. Shapiro frequently appeared on radio and television broadcasts as a spokesperson for a wide variety of individual and artistic freedoms.





In her capacity as the Chairperson of the ACLU/SC's State and National Legislation Committee, Alex produced three Conferences that brought State senators, Assembly members, clergy and community leaders together for day-long seminars to openly debate current issues, often related to the same free speech and First Amendment rights upon which all artists rely. Alex is the recipient of three awards from the ACLU honoring her activism, including being named the 1993 Chapter Activist of the Year.




Alex with composer Morten Lauridsen
on Waldron Island, WA, July 2011.
Alex, with pianist Leonard Stein
and composer Steven Stucky
as she spoke at the March 2004
ACF/Los Angeles Music Room.

| | |
| --- | --- |
| Alex is the recipient of very, very few awards, honors, and reviews! The path of her career has not been driven by the acknowledgment from others in that manner. But she has always appreciated any positive nods toward her efforts. | |
| | |
| --- | --- |
| Alex received the 2018 Friday Harbor Film Festival Local Hero Awardfor her activism through music, as an arts advocacy speaker and as a composer who often pairs her works with her wildlife photography to raise environmental awareness. The ceremony also recognized Paul Watson, the founder of The Sea Shepherd Conservation Society. | |
| | |
| --- | --- |
| | Alex was honored in 2011 by the international music fraternity Mu Phi Epsilon with its highest distinction given to members, the Award of Merit. Citing "her dedication to new music composition and activism for the arts," the award, given to a member biannually, was presented at the Mu Phi Epsilon National Convention held at the Eastman School of Music in Rochester, New York. To read the lovely inscription on the placque, click here |

Composers David Rakowski and Alvin Singleton
with Alex at the MacDowell Colony
in Peterborough, New Hampshire,
September 2003.
Pianist Teresa McCollough with Alex,
at sea in the San Juan Islands,
August 2007.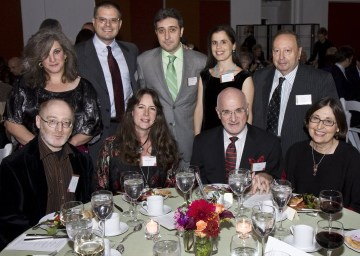 Distinguished Alumni Awards Dinner, October, 2008,
Manhattan School of Music:
(seated) Composer Aaron Jay Kernis, Alex Shapiro,
MSM President Robert Sirota, Vickie Sirota,
(standing) Elizabeth Dworkin, Dylan Maulucci,
Salvatore Di Vittorio, Santa Maria Pecoraro,
and Arkady Aronov.
Alex with Los Angeles composers
Barry Schrader and Peter Grenader,
February 2006.
Alex in the lavender fields
of San Juan Island with composer
Anne LeBaron, July 2011.
Alex with the late bassist/composer
Jimmy Bond and percussionist/composer
Bill Kraft in Los Angeles, August 2006.
| | |
| --- | --- |
| Jazz, Film & Television Scores | |
Prior to launching her concert music career, Alex Shapiro worked for fifteen years in the commercial music world, scoring feature films, television shows, commercials and documentaries.
As featured inn

| | | | |
| --- | --- | --- | --- |
| | | | |
Film and TV Music Special Issue of
The Hollywood Reporter, 1994 (Alex, top right)

Film and TV Music Special Issue of
The Hollywood Reporter, 1995
| | |
| --- | --- |
| Alex's music is the soundtrack for the 2011 short art video, REFLECTION, created by artist Grimanesa Amoros. The video was premiered in the International Streaming Festival, Sixth Edition at the Hague in the Netherlands, and was also screened in Milan, Italy, and on Video Art World. REFLECTION is included in Amoros's 2013 Video Retrospective in Lima, Peru. An excerpt of the video can be seen by clicking the photo at right | |
Alex called upon her 15 years working in commercial music in Hollywood, and got into the team spirit with the Clemson University Tiger Band! In 2015 she was commissioned by band director Mark Spede to create the audio track to which Clemson University edited a video for the Jumbotron screens in its 85,000 seat Memorial stadium.




The video-- which you can watch by clicking the stadium photo on the left-- has played during every football game since September 2015, as the 290 musicians of the Tiger Marching Band pour out on to the field to perform. Go Tigers-- the 2016 AND 2019 National Champions!
For full information and many audio clips,
visit Film/TV/Jazz

Alex's life in the San Juan Islands
when she's not in her studio.
As a certified sailor, a sea kayaker and an avid tide-pooler, Alex's daily life reflects her love of marine biology. In 2008 she was honored to join the Advancement Board of the renowned University of Washington Friday Harbor Laboratories.
Alex explains the connection between music, the sea, and immersive learning, and talks about why she supports the programs of University of Washington's College of the Environment and the Friday Harbor Labs:
The ocean is a significant part of Alex's life, and if Alex wasn't a musician, she'd probably be a marine biologist. Click above for local information about this beautiful environment which inspires her music.




Other than nature photography, how else does Alex spend her time? In addition to being a sailor, she loves kayaking and used to be an avid downhill skier until she accepted that gravity is not just a concept, it's a law.




Alex tries to balance her music life with her love of the outdoors and the intoxicating scent of SPF 50 sunscreen.For more local photos, and Alex's observations about music and everything that inspires it, visit Alex's blog,
Notes from the Kelp.




| | |
| --- | --- |
| Professional Affiliations | |
| | |
| --- | --- |
| The following organizations are of interest to readers looking for more information, and may be of particular assistance to composers seeking ways to further their careers: | |

Symphonic & Concert Writer Member,
Board of Directors, ASCAP

Officer, Board of Directors,
The ASCAP Foundation
Co-Chair, Symphony & Concert Committee,
ASCAP
Member, Board of Directors,
The Aaron Copland Fund for Music

Member, Board of Directors,
Music Publishers Association of the United States
Voting member,
The Recording Academy (NARAS; The Grammys)
Member,
NAfME Council for Music Composition
Member, Music Department Advisory Council,
Columbia College
Honorary Brother,
Kappa Kappa Psi
Member, Distinguished Mentors Council,
Composers Now
Honorary Brother,
Tau Beta Sigma
Member, past officer,
NACUSA (National Association of Composers, USA)
Member,
ACME, Mu Phi Epsilon
Member, past Board Vice President,
The Society of Composers & Lyricists (SCL)
Member,
Sigma Alpha Iota Composers Bureau

Past Board President,


American Composers Forum of Los Angeles
Past officer,
The College Music Society, Pacific Southern Chapter
Past Member, Executive Committee,
The International Council Of Music Authors (CIAM)
Past Co-Chair, Program Council,
New Music USA
Past concert music representative,
Board of Review, ASCAP
Past Member, Alumni Council,
Manhattan School of Music
Past Board member,
American Music Center
Past Board member,
The MacDowell Colony
Past Member, Board,
Mladi Chamber Orchestra
Past Member, VTEA Advisory Council,
Los Angeles City College Music Department
Member,
American Composers Forum
Member,
Chamber Music America
Member

,


SEAMUS (Society for Electro-Acoustic Music in the U.S.)
Member,
Society of Composers, Inc. (SCI)
Member,
International Alliance for Women in Music (IAWM)
Member,
Mu Phi Epsilon

Member,
The Dominant Club Music Association
Past Member,

Advisory

Board

,
Kalvos and Damian's New Music Bazaar
Fellowship recipient, 2000,
California Arts Council
Fellowship recipient, 2003-2004,
The MacDowell Colony
Member, Advancement Board,
University of Washington Friday Harbor Laboratories
Member, past Board Vice President,
The American Civil Liberties Union of Southern California (ACLU)
For additional helpful resources,
visit Links


To contact Alex Shapiro,
email is best.
Click here to send Alex a note
You can also leave
a voice message,
or even send a fax
(what's THAT?) by dialing:
(270)916-0093.

To learn more
about Alex Shapiro's public
speaking engagements,
please click here

Interact with the composer!
See Alex in the context of the world around her,
through the nature-oriented lens of her popular blog,
Notes from the Kelp,
and in the social networks.

Looking for additional diverse composers?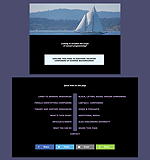 Please visit the PROGRAMMING RESOURCES page on this site: an inspiring list of aggregated links to a great many talented and underrepresented composers who happen to be women, and/or people of color. Then, share the link with conductors, educators and music-makers!

Cap'n Al at the helm of her
first sloop, "Sea Natural."

© 2000-2022 by Alex Shapiro.
All nature photos by Alex Shapiro (like 'em?).
All rights reserved to design and content.