THE SCORE
(email Alex for code access)
PERUSAL ONLY; not for performance or duplication.
.pdf file of the TRANSPOSED SCORE,

8 1/2 x 11; 29 pages including cover and notes.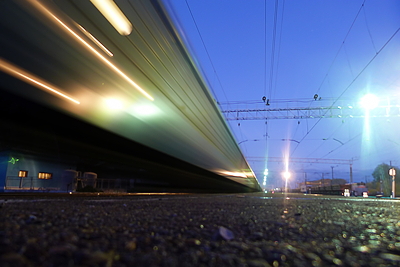 | | |
| --- | --- |
| Download of a virtual recording created by the musicians of University of the Pacific, conducted and edited in April 2021 by Vu Nguyen, and mixed and mastered by Alex Shapiro and Jon Rosenberg. This recording features a tenor sax in lieu of the bass clarinet. (8:19) | |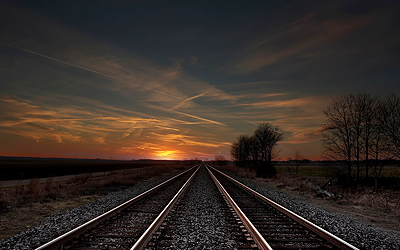 A year before this piece was even imagined, my Vermont composer friend Dennis Bathory-Kitsz happened to post a short video on Facebook of a neighborhood Amtrak train zipping past his lens and microphone at full speed. There was something hauntingly beautiful about the particular chords and rhythms of that moment, and after replaying the clip several times I sensed that maybe sometime in the future, I could make use of these evocative sounds. I asked Dennis to return to the edge of the tracks and collect more audio samples. After cataloguing the pitches and patterns so I could work with them as musical elements, I tucked the edited files away, for an unknown project.

That project appeared the next year, in the form of a commission from band director and educator Paul Kile for the Cochran Chamber Commissioning Project. They requested a work for a small group of any instruments commonly found in a wind band. Being the underdog-loving gal that I am, rather than include the usual all-stars of flute, clarinet or trumpet, I chose six, much lower-register instruments which deserve more repertoire. And, instead of taking a traditional approach to band instruments which tends— in my own works as well— to enjoy fast and remarkably loud notes whenever possible, I decided to offer these musicians the challenge of playing something moody, slower, and often quiet. The sound of a train summons many different emotions, from anticipation, to regret. Recalling the files I had previously edited, I knew the timbre of this ensemble would be the perfect match.

As it turns out, TRAIN OF THOUGHT is very effective with many types of instrumental groups— all brass, all woodwind, etc. Its first trip down the tracks was scored for bass clarinet, baritone saxophone, French horn, trombone, euphonium, and tuba, and the video and recording on this page feature a tenor sax in lieu of the bass clarinet. I dedicate the piece to all the heroes of the low-pitched world!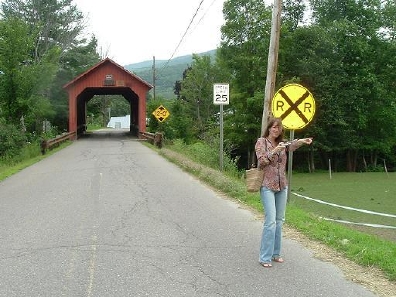 | | |
| --- | --- |
| Alex standing across the road from composer Dennis Bathory-Kitsz's Vermont home. The tracks of the train heard in TRAINS OF THOUGHT are just on the other side of the old covered bridge. | |
TRAIN OF THOUGHT is an unusual offering for the low wind chamber repertoire. A pensive, moody piece that is sometimes chorale-like, it challenges musicians to synchronize and blend with the atmospheric audio track, to play rather quietly in many spots, and to focus on intonation and breath control. There are moments where the ensemble forms beautiful chords, with enough time on each to center their pitch and learn to hear each other.

While not required, a conductor is encouraged, because the audio track events are sometimes syncopated and phase-shifted, making it easy to momentarily lose the sense of where a downbeat is— especially as the meters occasionally shift.

In any hall, it's hard for a performer to hear a whooshy audio track like this one. Musicians should download the accompaniment track and practice to it on their own— even if they just play the recording (which has the click) while visually reading their part and not even playing it on their instrument.

Instrument substitutions, if needed, should work very well. For instance, there's a lot for a bass clarinetist to do, and the part will sound equally good on bassoon or tenor sax. The bari sax could easily be handed by low brass, and the addition of a double bass on the tuba or euphonium parts would be beautiful. Furthermore, the piece could be done homogeneously by either a woodwind group of saxes and clarinets, or a low brass group plus French horn.

The score and parts include a reference staff for the audio track, offering pertinent information as to what the player hears. "Ostinato" is marked for onward, repetitive figures, and "pad" is used to indicate a constant low pitch. Text is present throughout to clearly define sounds and events.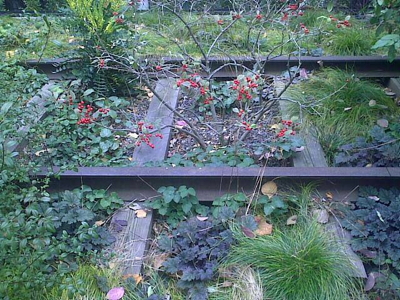 Alex has written an extensive two-part article about electroacoustic band music and the uses of multimedia in the concert world. The essay, titled The e-Frontier: Music, Multimedia, Education, and Audiences in the Digital World echoes the presentations she has given at the 2013 Midwest Clinic, the 2014 TMEA convention, and countless other seminars, and appears in the June and September 2014 issues of the magazine of the World Association for Symphonic Bands and Ensembles, WASBE World. The pdf is offered here with the very kind permission of the organization.

Click here for the full .pdf file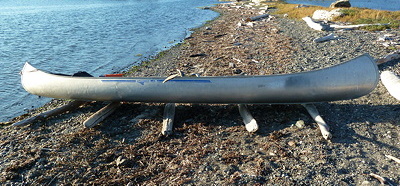 | | |
| --- | --- |
| Another form of transport on San Juan Island, WA, resting on its own set of "tracks." | |
| | |
| --- | --- |
| The VERY best way to reach Alex is through email, by clicking here | |