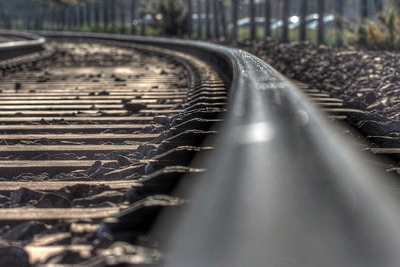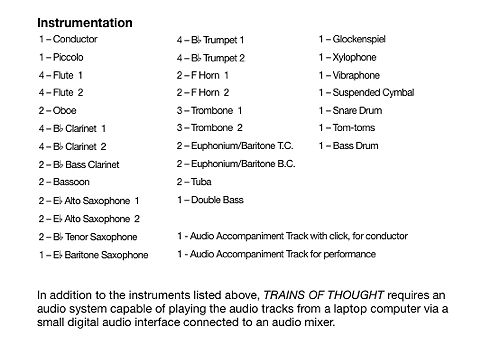 | | |
| --- | --- |
| Watch the first of the commissioning consortium premiere performances, by the University of Puget Sound Wind Ensemble conducted by Gerard Morris on March 3, 2018, at the Society of Composers, Inc. National Conference. | |
THE CONDUCTOR SCORE
(email Alex for access code )
PERUSAL ONLY; not for performance or duplication.
.pdf file of the TRANSPOSED SCORE,

9 x 12; 37 pages including cover and notes.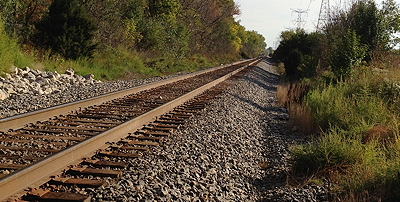 | | |
| --- | --- |
| Click the photo below to watch a fall 2018 performance of TRAINS OF THOUGHT by the wind ensemble at Ballard High School in Seattle WA, conducted by Michael James: | |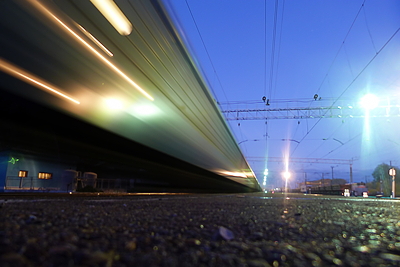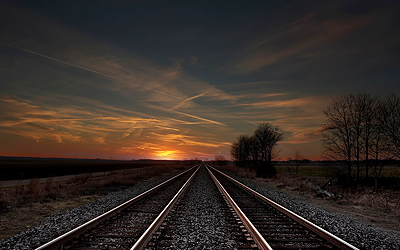 | | |
| --- | --- |
| The premiere concert in Tacoma, Washington at the University of Puget Sound on March 3, 2018, performed by the University of Puget Sound Wind Ensemble conducted by Gerard Morris. (7:15) | |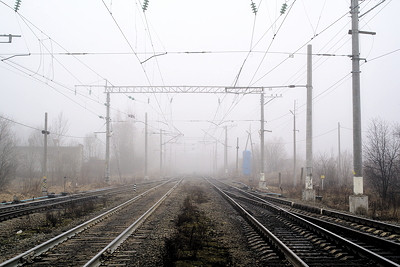 TRAINS OF THOUGHT began life as a slightly longer electroacoustic sextet for a sultry combination of instruments that deserves more repertoire: bass clarinet, baritone saxophone, French horn, trombone, euphonium, and tuba. This initial, more intimate version was commissioned in 2015 by Paul Kile, Director of Bands at Edina High School in Edina, Minnesota, for the Cochran Chamber Commissioning Project. Halfway into the enjoyable process of composing it, I couldn't stop thinking how compelling it would be if someday I expanded the music to suit the textures of a full wind band.

Two years later, Adam Campagna and the W.F. West Wind Ensemble in Chehalis, Washington offered me the opportunity to act on my impulse to adapt the original work for band. The two versions share many of the same themes and accompaniment track textures, but early into the adaptation process, I discovered that a broadened version of the music demanded a fresh approach to the materials. I nipped, tucked, and re-arranged the phrases and motives, and the result is that the chamber version is akin to a painter's watercolor or line drawing prototype of what eventually becomes an enormous oil canvas.

Why trains? In 2014 my Vermont composer friend Dennis Bathory-Kitsz happened to post a short video on Facebook of a neighborhood Amtrak train zipping past his lens and microphone at full speed. There was something hauntingly beautiful about the particular chords and rhythms of that moment, and after replaying the clip several times I sensed that maybe sometime in the future, I could make use of these evocative sounds. I asked Dennis to return to the edge of the tracks and collect more audio samples. After I catalogued the pitches and patterns so that I could view them as musical elements, I stowed the edited files away for an unknown project— never guessing the amount of joy I'd get creating not one, but two iterations from those recordings.

Everyone experiences the elusive feeling of repeatedly pondering something, and— with or without our permission— sensing the concept rattle down an endless set of internal tracks. Soon those thoughts wander somewhere else, sometimes related, and just as often, not. Our psyches dance between that which is linear and that which appears from seemingly nowhere in a waking dream-state. Whether we're losing our train of thought as our focus derails, or are trying our best to hold on to it, our minds have tracks of their own.
| | |
| --- | --- |
| | |
| | |
| --- | --- |
| Here's something VERY helpful: a complete guide to the software and hardware setup for your band room and performance venue. | |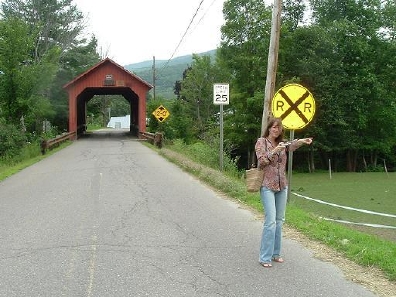 | | |
| --- | --- |
| Alex standing across the road from composer Dennis Bathory-Kitsz's Vermont home. The tracks of the train heard in TRAINS OF THOUGHT are just on the other side of the old covered bridge. | |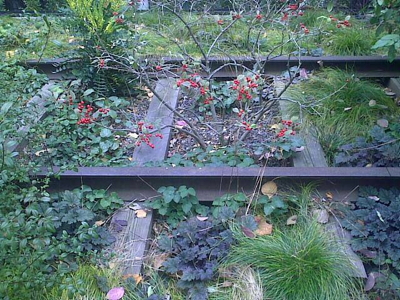 This work was commissioned by William F. West High School, Adam Campagna, Director, with the participation of a consortium of partners:

Chaska High School, Minnesota; Tim Beckler, Director
Michigan State University; Arris Golden, Director
Kelso High School, Washington; Daniel Hartley, Director
University of Wisconsin-Whitewater; Glenn Hayes, Director*
Edina High School, Minnesota; Paul Kile, Director
University of Toronto, Ontario, Canada; Gillian MacKay, Director
University of Puget Sound, Washington; Gerard Morris, Director
Hoquiam High School, Washington; Susan Peters, Director
Cascade High School, Washington; Mark Staley, Director

*In honor of the 50th anniversary of the UW-Whitewater Warhawk Summer Band Camp.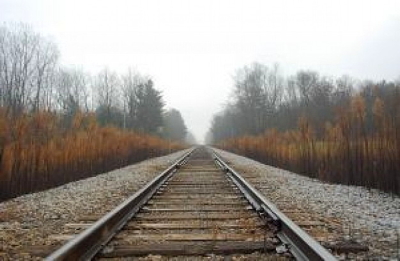 Zoom, Skype, Google Meet, etc. are wonderful tools for affordably bringing Alex into your rehearsal, without having to book a plane flight! She has a great time coaching students, and the difference between their musicianship at the beginning of the session and by the time it ends, is remarkable.



Alex can tell the ensemble about how the piece was created and engage them in conversation, and even show them how her digital project studio works! It's also easy to arrange to have her say hello to the audience during a concert, via a custom video. Webhearsals connect musicians to the real person-- and the stories-- behind the notes on the music stands. Get in touch with Alex-- her contact info is at the bottom of this page.



To see some examples of webhearsals, and the view Alex loves to share from her desk, click here.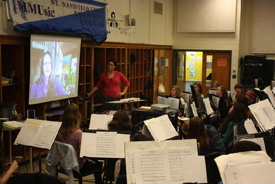 | | |
| --- | --- |
| Alex was an early adopter of online "webhearsals"! Here's one from December 2012 with Alex in her studio on Washington's San Juan Island, and band director Mary Bauer and the Mt. Mansfield Union High School Band far across the continent in Vermont. | |
Alex has written an extensive two-part article about electroacoustic band music and the uses of multimedia in the concert world. The essay, titled The e-Frontier: Music, Multimedia, Education, and Audiences in the Digital World echoes the presentations she has given at the 2013 Midwest Clinic, the 2014 TMEA convention, and countless other seminars, and appears in the June and September 2014 issues of the magazine of the World Association for Symphonic Bands and Ensembles, WASBE World. The pdf is offered here with the very kind permission of the organization.

Click here for the full .pdf file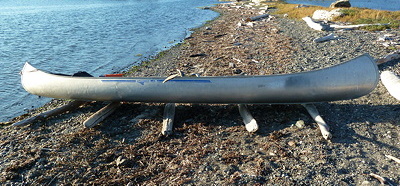 | | |
| --- | --- |
| Another form of transport on San Juan Island, WA, resting on its own set of "tracks." | |
| | |
| --- | --- |
| The VERY best way to reach Alex is through email, by clicking here | |
| | |
| --- | --- |
| You can also leave a voice message or a fax (what's THAT?) at: (270) 916-0093, and she'll return your call. | |
There's a lot more Shapiro band music to hear!

Head on over to THIS PAGE for an overview of Alex's wind band pieces. You can listen to each one, read all about it via a link, and if desired, request a free pdf perusal score. Have fun!