SURFACE


for symphonic wind band,
and pre-recorded soundscape.


Composed by Alex Shapiro.


Grade 5 and beyond.


2010. Duration 3:55.
Published by Activist Music LLC (ASCAP).


Click the arrow below to hear
the live premiere recording of
SURFACE,
at Ted Mann Hall, Minneapolis, MN.,
February 16, 2011
performed by the University of Minnesota
Symphonic Band,
Jerry Luckhardt, conductor





SURFACE is available as a
physical, bound set of score and parts
plus audio download,
or as a digital set of .pdf score and parts,
plus audio download.


Full set: $150.
Score only: $25.
| | |
| --- | --- |
| Click here to order from Activist Music: | |
LICENSES INCLUDED:

Synchronization and mechanical rights are included free of charge for music educators and non-profit ensembles wishing to create a virtual recording and video of this piece, subject to written approval from Ms. Shapiro prior to publicly posting the media.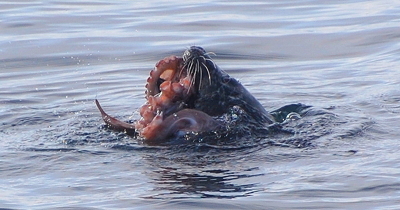 | | |
| --- | --- |
| SURFACE is a mini percussion concerto that reflects a Harbor seal's dramatic lunchtime assault on a Giant Pacific octopus, witnessed by the composer from her studio as she began writing this movement. A sudden explosion through the calm water revealed two animals flailing in battle one moment, then diving below to deceptive stillness… until the next violent eruption. The seal eventually won its meal, but not without the chaos of significant effort. In this habitat of life and struggle, every day brings a challenge. | |
| | |
| --- | --- |
| Enjoy this video of SURFACE, performed by the Washington State University Wind Ensemble, conducted by Dahn Pham on a concert devoted to Shapiro's music during her residency as guest composer for the Festival of Contemporary Art Music on February 9, 2013. | |
| | |
| --- | --- |
| You can also enjoy a setting of SURFACE that, while still related to being underwater, has nothing to do with sea life! This video is scored with a recording of the live premiere of SURFACE, performed by the University of Minnesota Symphonic Band, conducted by Jerry Luckhardt at Ted Mann Concert Hall in Minneapoli, MN, February 2011. | |

PERUSAL CONDUCTOR SCORE for SURFACE
(email Activist Music for the code):

| | |
| --- | --- |
| .pdf file of the TRANSPOSED CONDUCTOR SCORE, 9 x 12; 42 pages | |
| | |
| --- | --- |
| CONDUCTOR SCORE | |

| | |
| --- | --- |
| Here's something VERY helpful: a complete guide to the software and hardware setup for your rehearsal space and performance venue. | |
| | |
| --- | --- |
| This music lends itself to a multimedia performance if desired, with video, photos, lighting, or set design concepts. For access to existing photographs from Alex's extensive portfolio, or for more information, please contact Alex | |
The marching bass drums and toms can be substituted with concert drums. The composer wanted to bridge the two worlds just a little bit, and bring an aspect of the marching arts onto the concert stage.

Want to see what five marching bass drums look like in the percussion section? Here's the setup from The Ohio State University premiere: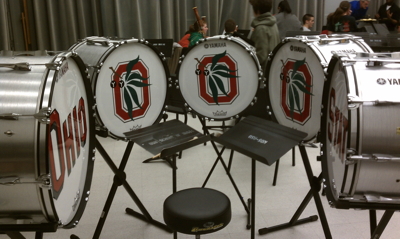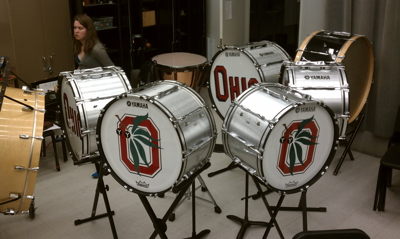 Zoom, Skype, Google Meet, etc. are wonderful tools for affordably bringing Alex into your rehearsal, without having to book a plane flight! She has a great time coaching students, and the difference between their musicianship at the beginning of the session and by the time it ends, is remarkable.



Alex can tell the ensemble about how the piece was created and engage them in conversation, and even show them how her digital project studio works! It's also easy to arrange to have her say hello to the audience during a concert, via a custom video. Webhearsals connect musicians to the real person-- and the stories-- behind the notes on the music stands. Get in touch with Alex-- her contact info is at the bottom of this page.



To see some examples of webhearsals, and the view Alex loves to share from her desk, click here.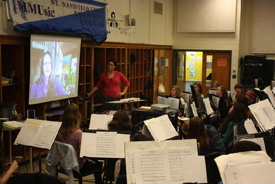 | | |
| --- | --- |
| Alex was an early adopter of online "webhearsals"! Here's one from December 2012 with Alex in her studio on Washington's San Juan Island, and band director Mary Bauer and the Mt. Mansfield Union High School Band far across the continent in Vermont. | |
Alex has written an extensive two-part article about electroacoustic band music and the uses of multimedia in the concert world. The essay, titled The e-Frontier: Music, Multimedia, Education, and Audiences in the Digital World echoes the presentations she has given at the 2013 Midwest Clinic, the 2014 TMEA convention, and countless other seminars, and appears in the June and September 2014 issues of the magazine of the World Association for Symphonic Bands and Ensembles, WASBE World. The pdf is offered here with the very kind permission of the organization.

Click here for the full .pdf file

| | |
| --- | --- |
| | SURFACE is also the second movement of Alex's wind symphony to the sea, IMMERSION. Click here to read about the suite. |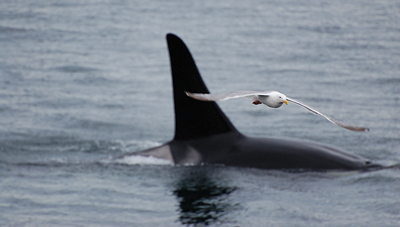 | | |
| --- | --- |
| The VERY best way to reach Alex is through email, by clicking here | |
| | |
| --- | --- |
| All photographs by Alex Shapiro (offering a good hint about where all this watery music comes from!). | |
There's a lot more Shapiro band music to hear!

Head on over to THIS PAGE for an overview of Alex's wind band pieces. You can listen to each one, read all about it via a link, and if desired, request a free pdf perusal score. Have fun!