Five Squared

(String Quartet).
Total duration ca. 5 minutes (2008)
Published by Activist Music (ASCAP).
One movement work. 17 pages, 8.5" x 11".

Premiered on January 10, 2009 in Brasilia, Brazil.
by Quarteto de Brasilia.

Audio clip performed in a live concert at the Vashon Chamber Music Festival, May 2011, by the Odeon Quartet: by Gennady Filimonov and Artur Girsky, violins; Heather Bentley, viola and Rowena Hammill, cello.
View page one of the score

Listen to an audio clip of this piece

Purchase this score

Score and parts available from
Activist Music for $35.00 print; $25.00 digital.
| | |
| --- | --- |
| Five Squared was composed in celebration of twenty-five years of the wonderful marriage of my half-sister Lisa and her husband, Dan Kubiske. Echoing their lives and personalities, the music is energetic and loving. A string quartet appropriately reflects the family they have built so beautifully: cello and viola Dan and Lisa, and the two violins, their sons Philip and Adam. The four, in unity, are my favorite ensemble. | |
"an attractive work"


-— Chicago Classical Review, February 2010
Email Alex for the access code
to download a perusal score!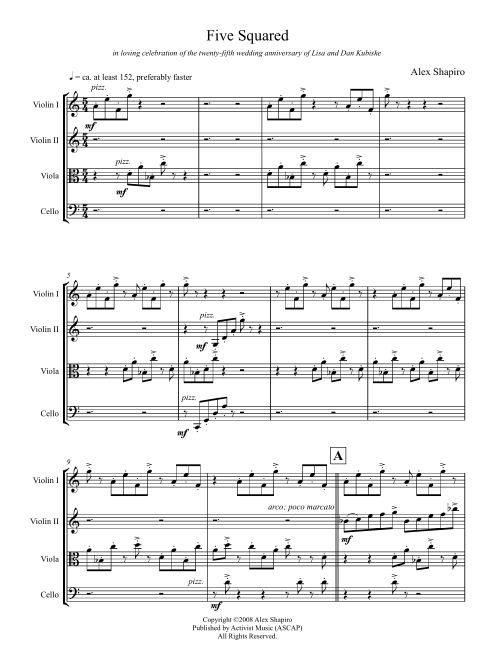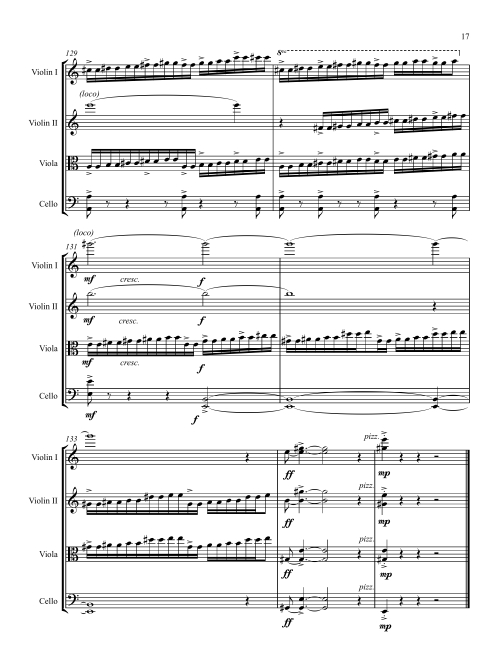 © 2000-2023 by Alex Shapiro. All rights reserved to design and content.