BENEATH


for Orchestra
and Pre-recorded Soundscape.
(with Pacific Humpback whale soloist!).

Composed in 2010 by Alex Shapiro.
Arranged by Andrew Wainwright, 2019



2019. Duration 10:30.
Published by Activist Music LLC (ASCAP).


Welcome!
This is where you can download the score and audio tracks for the orchestral version of BENEATH, from the three-movement suite, IMMERSION. You have most likely already received an email with the necessary access code and password.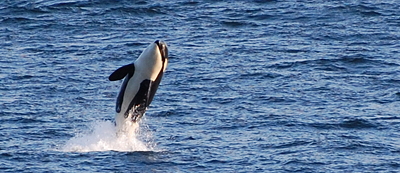 This page contains:
The .pdf file of the conductor score
The .pdf files for each of the parts

(you may print the number needed for each section)
The audio file of the accompaniment track for rehearsal

(one file with click track, and also offered as contiguous CD tracks that correspond to the score)
The audio file of the accompaniment track for performance

(no click)
The program note
Technical notes and errata
A link to a program bio and photo of the composer
The full recording of the University of Minnesota premiere performance of the original version for wind band
Contact info
The following copyrighted files have been made available to you by express permission of Alex Shapiro and Activist Music (ASCAP). They are for the sole use by you, or by your organization. You are hereby granted the right to print these files once. Under no circumstances may these files, in either digital or printed form, be forwarded, shared, loaned, leased or sold to any other entity. Activist Music tracks the usage of all materials.


Beneath brings listeners on a sonic journey into a private, aquatic realm. Below the surface of the ocean is a world of liquid beauty and grace hidden from our eyes and from our imagination. Even in this habitat of life and hope, exquisite creatures remain vulnerable to events triggered from beyond their fragile sanctuary. From a volcanic eruption under the Pacific, to a guided tour alongside a Humpback whale, your ears and your heart will glide across the bottom of a place we sometimes forget to look.
Enjoy this video of BENEATH, performed by the Washington State University Wind Ensemble, conducted by Dahn Pham on a concert devoted to Shapiro's music during her residency as guest composer for the Festival of Contemporary Art Music on February 9, 2013.

LIVE PREMIERE PERFORMANCE, February 16, 2011, by the University of Minnesota Symphonic Wind Band, Jerry Luckhardt, conductor. Recorded by Minnesota Public Radio; Produced by Alex Shapiro.


| | |
| --- | --- |
| .mp3 download: | |

.pdf file of the TRANSPOSED CONDUCTOR SCORE, 1 1 x 17; 30 pages including cover and notes
CONDUCTOR SCORE:
SINGLE SIDED

| | |
| --- | --- |
| Want to have Alex coach your ensemble rehearsal, or congratulate the orchestra and introduce this piece to your audience? Skypehearsals are easy and inexpensive to arrange! Send an email to schedule a session, by clicking here | |
| | |
| --- | --- |
| Here's something VERY helpful: a complete guide to the software and hardware setup for your rehearsal space and performance venue. | |
This music lends itself to a multimedia performance if desired, with video, photos, lighting, or set design concepts. For access to existing photographs from Alex's extensive portfolio, or for more information, please contact Alex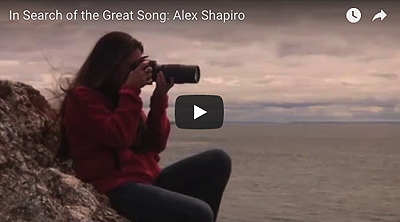 Alex has written an extensive two-part article about electroacoustic large ensemble music and the uses of multimedia in the concert world. The essay, titled The e-Frontier: Music, Multimedia, Education, and Audiences in the Digital World echoes the presentations she gave at The 2013 Midwest Clinic and the 2014 TMEA convention, and appears in the June and September 2014 issues of the magazine of the World Association for Symphonic Bands and Ensembles, WASBE World. The pdf is offered here with the very kind permission of the organization.
When using the click track with track numbers that correspond to the rehearsal letters in the score, "Track 9 [3:55]" in the score does not exist as its own track in the click regions. Everything that follows works fine if you subtract a number. So "Track 10" in the score actually works as "Track 9" on the click, and so on.
Chimes, marimba and vibes will all benefit from hard mallets for better volume.
Cymbals should never be hit with a stick, despite score indication; it's too loud.
Please avoid converting the performance track file to a lower quality MP3 file.
If possible, set the percussionists up with in-ear monitors, through which they can hear the same click track as the conductor.
It's imperative that the volume of the track equals that of the ensemble, to create a seamless melding of sound. However, the added "washiness" and textures of an accompaniment track can cause the live instrumentalists to become too covered up and not sound as "present." Thus, it's recommended that the musicians should over-emphasize the dynamic and articulation markings in their parts, to ensure the most expressive, musical result.

Each file is large, and will take a few moments to download. PLEASE WAIT until the ENTIRE file has downloaded into your browser before attempting to download it to your computer. And remember: the password and access code are case-sensitive. Thank you!

AIFF FILE of ACCOMPANIMENT TRACK
for BENEATH
FOR CONDUCTOR and REHEARSAL
WITH CLICK TRACK

| | |
| --- | --- |
| FOR CONDUCTOR and REHEARSAL: High resolution file of the electronic accompaniment track, with added click track. | |
FOR CONDUCTOR and REHEARSAL: CLICK TRACK ONLY.

Use alone, or run on a separate channel along with the accompaniment track routed to conductor's earbuds, for individual volume level control.


| | |
| --- | --- |
| FOR CONDUCTOR and REHEARSAL: A zip file of the high resolution files of the electronic accompaniment track, split into TRACKS per the score, with added click track. Download this folder and play each track in sequence from iTunes, or burn onto a CD. | |
AIFF FILE of ACCOMPANIMENT TRACK
for BENEATH
FOR PERFORMANCE

NO CLICK TRACK


| | |
| --- | --- |
| FOR PERFORMANCE: High resolution file of the electronic accompaniment track. | |

All parts .pdfs are in booklet form, to be printed on tabloid size paper (11" x 17") run through a duplexing printer, thus creating 8 1/2" x 11" parts.
For single-sided parts, please EMAIL ALEX


| | |
| --- | --- |
| | Want to know how Alex found the perfect whale for this piece? Click here to read a short interview with her, on the blog The Natural World. |
| | |
| --- | --- |
| | Click here to listen to the February 2017 podcast interview Alex did with host Anthony Lanmanon his show 1 Track, in which she A/B'ed identical sections of BELOW, for contrabass flute, and its subsequent version for symphonic band, BENEATH -- the final movement of IMMERSION. |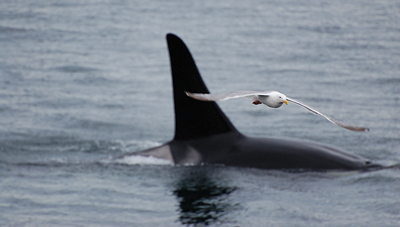 | | |
| --- | --- |
| The VERY best way to reach Alex is through email, by clicking here | |
You can also leave a voice message or a fax at:
(270) 916-0093, and she'll return your call.
| | |
| --- | --- |
| Alex's SKYPE name is, notealigner. | |
All photographs by Alex Shapiro (offering a good hint about where all this watery music comes from!).