Shiny Kiss

(Solo Flute).
Total duration ca. 4 minutes (1999)
Published by Activist Music (ASCAP).
Commissioned in 1999 by flutist Chelsea Czuchra.
One movement work. 7 pages, 8.5" x 11".

Premiered in October 1999 in Carmel, CA. by Chelsea Czuchra.

Recorded in July 2000 in Los Angeles, CA.
by Jenni Olson, flute.

Audio clip performed by Jenni Olson, flute.
This piece is featured on Jenni Scott [Olson]'s 2006 CD, Jenni Scott.
Click CD for more info.
Jenni Olson has also recorded Alex's Intermezzo, for bass flute and harp, for her 2012 CD, The Dreams of Birds,on Delos Records.
Click CD for more info.
View pages of the score

Listen to audio clips
of this piece

Shiny Kiss was composed with the intent to showcase a player's tone and to contrast the more gymnastic nature of other contemporary pieces in the repertoire, and the music is based on a short poem I wrote of the same title. With so many wonderful solo flute pieces being written that explore every possible extended technique available to both the instrument and the accomplished player, Shiny Kiss is a modern yet highly lyrical piece that explores linear musical emotion. The title refers to the way stage lights bounce and reflect off of a metal flute and how a flutist's mouth graces the embouchure. This simple hollow tube is the vehicle for such passionate expression, and just watching expert lips coaxing music from it can be a nearly voyeuristic experience.


Shiny Kiss

Passion searches
hungry
for its partner
through air that moves
and breathes
into your ear
warm
slowly first
then quicker gasps
it finds you
reflecting light
and sound
with lips pressed
firm
against cool metal
It sings to you
it moans
caressing
eager to seduce
all that lives between the air
and you
barely touching
grazing
neck hair
shiver
accept
this shiny kiss.
© Copyright Alex Shapiro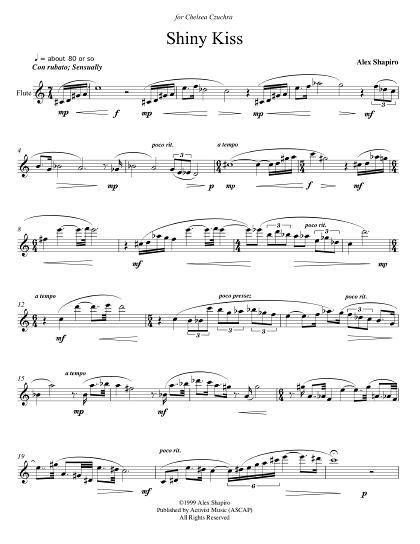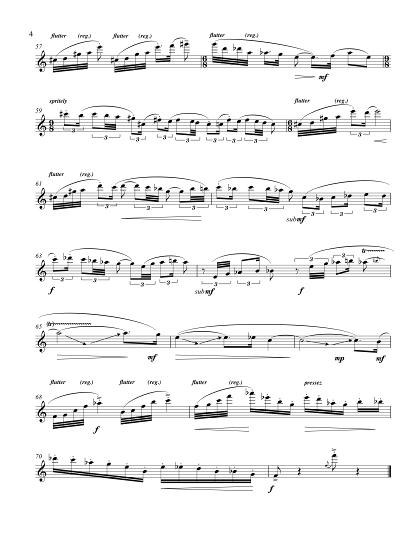 S
© 2000-2013 by Alex Shapiro. All rights reserved to design and content.