November 24, 2007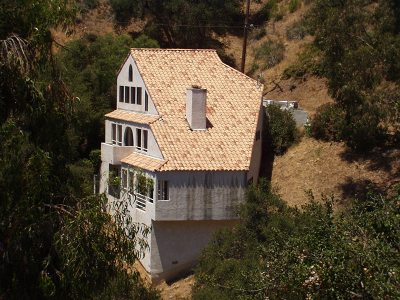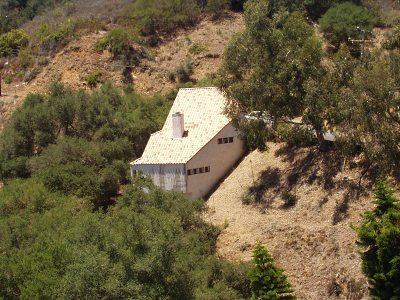 Throughout my life so far, I've probably changed addresses slightly less than many adults. For 18 years I lived in the same very tall building in Manhattan, followed by three more in another shorter one across town. At 21 when I headed to the Great West to seek my joy, I didn't know that I would spend the next 24 years in Los Angeles and its environs. Fully 20 of those were split between just three addresses: 10 years in the same place in Van Nuys, and the next 14 in Malibu. After renting a couple of places there short term, I lived in two that were very significant and dear to me, for 5 years each.
One of those very significant places, pictured above from my time there, burned to the ground today in Malibu's terrible Corral Canyon fire.
The oddly shaped stucco and tile architecture clung to a steep, oak and eucalyptus laden hillside. With no immediate neighbors it offered me tremendous peace, and abutted one of the best hiking trails in the area. But what became most special about this place to me was that it represented enormously key personal and professional turning points in my life, each of which altered its direction for the better. The amount of drama I experienced at this address– very good and starkly otherwise– is indelible many years later. So indelible, in fact, that when I came across this sad photo on the L.A. Times website of my beloved former residence melting into the earth, I was flooded with details and memories of every room and all twenty seasons of my life that they sheltered.
I have written in these blog pages before about impermanence, and it is a constant truth. But despite my own imminent melting back to the earth someday, as long as I'm here and of sound mind, my memories remain. They are all that I truly possess.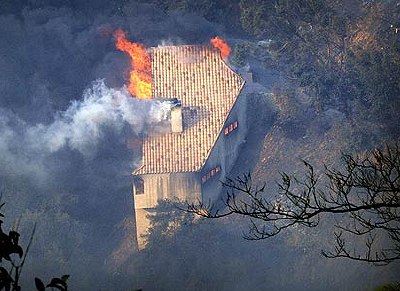 Elegy for five years of memories.